Lori Dyer had struggled with her weight for as long as she could remember. She was 412 pounds and had tried every diet. However, she always gained the weight back.
She got sick a lot and struggled to walk down stairs. The extra weight contributed to health issues, including high blood pressure, sleep apnea, pre-diabetes, back pain and knee pain.
"I didn't know how not to be fat," she said.
It wasn't until Lori's children said they "didn't want to lose her" that Lori went through with a procedure that has so far has helped her lose more than 250 pounds.
(Click below to watch a video by Highland Hospital that highlights Lori's story)
Gastric Bypass
Lori underwent gastric bypass surgery.
With the surgery, the doctor first makes the stomach smaller by stapling off a small pouch, which makes you feel full sooner. Next, the surgeon shortens your small intestine and attaches it to the small stomach pouch. This changes the direction of the food to bypass most of the small intestine so your body absorbs fewer calories.
When doctors look into bariatric surgery, they look at many options, including gastric sleeve surgery.
After gastric bypass surgery, patients need to rest and recover. After the operation, most people move from a liquid diet for a week, to a puree diet, to a soft diet where you can introduce other foods, to a balanced diet set out by a dietitian. These special diets run about two months before you are back to "normal" food.
Bariatric surgery is not a magic pill.
Lori said the surgery changed her life. But after undergoing such an intense procedure, Lori had to dramatically change a lot of things. She has to regularly take vitamins and supplements, eat healthy practically all the time, attend follow-up appointments, exercise and participate in support groups for the remainder of her life.
Lori says, "It is hard," but her only regret is, "not having the procedure done sooner."
Lori had at one point accepted where she was. She was 400 pounds and didn't want to leave her house. Lori said her decision was hard to make.
"When I had thought about surgery in the past, I didn't want to do it because I always figured I would be missing out on so much," she said. "But then the light bulb finally went off and I thought 'what am I missing out on by NOT having the surgery?'"
Lori realized that the answer was life. "When talking it over with my kids, my daughter said, 'We really want you around as long as possible.' So yes… absolutely. I was going for it."
Considering Bariatric Surgery
Bariatric surgery is a major procedure, and should be part of a comprehensive program that includes exercise and nutritional education as well as mental health and well-being, said says LouAnne Giangreco, M.D., a Chief Medical Officer at Excellus BlueCross BlueShield.
If you are considering bariatric surgery, make sure you understand the side effects like infection, diarrhea, blood clots and even death.
"This type of surgery is only recommended if you're very obese, your health is suffering and if all other diet and exercise options are not successful," she said.
"Regularly eating healthy and exercising can have a bigger impact on your health than you think," she added. "But, make sure you get the social support you need; having friends and family that support you is just as important as going through with the procedure."
You may be able to look to your employer for support. According to Pat Salzer, a registered dietitian at Excellus BCBS, many workplaces provide health education programs at the work site.
"I am no longer just existing…I am living"
Lori wants people to know that bariatric surgery is not "cheating or the easy way out." She stresses that "this is one of the hardest things I have ever done." Lori found Highland Hospital in Rochester, a Blue Distinction Center for Bariatric Surgery. Hospital staff took care of her, educating her about the procedure and providing care before, during and after the surgery. These Blue Distinction centers help patients like Lori get back on their feet usually with fewer complications and hospital readmissions.
Lori has done things she never thought possible and is comfortable trying new things. Lori even went on a dating site last year and "found the piece of me that was missing. I totally would have missed out on him because I would have never put myself out there."
"Be ready for your life to change dramatically."
Now, Lori is living her life the way she always wanted to. She is kayaking, mountain climbing, running 5ks and walking out the door, ready to take on her next adventure.  Lori stresses that the procedure "has certainly made, a huge, huge difference. It will affect everything you do, but in a good way."
Lori's Three Year Journey: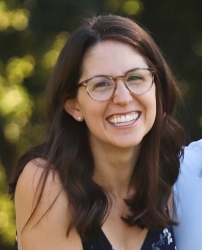 Latest posts by Erika Gruszewski
(see all)