Watching the big game can be grueling when you've got a super-sized buffet to celebrate.
But you can approach kickoff with a solid game plan to help you avoid getting sacked by too many fatty barbecue wings or ill-advised slices of calorie-laden pie:
Before you start the bash, have a small, healthy snack such as an apple, yogurt or a handful of nuts. If you're hungry when you start the game day snacks, your willpower will go 'wide right.'
Set up a salad bar for a super-sized bowl of produce and more. The possibilities are endless and include mixed greens, cucumbers, tomatoes, celery, carrots, red onions, broccoli, mini peppers, radishes, chick peas, cooked marinated chicken, roasted vegetables, sunflower seeds, dried cranberries, orange slices and feta cheese. Make a salad dressing with olive oil and your favorite vinegar. Experiment with spices such as oregano, crushed red pepper, turmeric and curry powder.
For something different make a cauliflower "steak" or "wings". Roast chickpeas or kale for a crunchy, fun food.
Baked tortilla chips make just as good a base for nachos as their greasy fried counterparts. Stack them high with shredded lettuce, beans, fresh avocado, diced tomatoes, jalapenos and cilantro. If you're adding ground beef, use the kind labeled "90 percent lean," and be sure to drain away the fat.

Looking for a healthy, but sweet snack? Try cookie dough hummus. I promise – it's tasty! The sweetness of the peanut butter, maple syrup, and chocolate chips hides the fact that this is a bean dip! Click on the video below for the recipe.
Another tip is to first take a 30-second food time out to assess all the choices on the game day spread before deciding on what you really want to nibble on. Then, move away from the table or walk around. If you stay next to the food, you're more likely to overeat.
By being aware of what you are eating and focusing on portion size, you'll be able to make it to the presentation of the trophy feeling like a winner.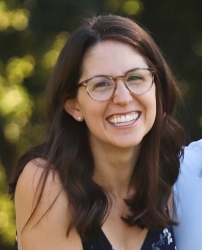 Latest posts by Erika Gruszewski
(see all)