Many of us have after dinner cravings, especially at this time of year. The good news is with some caution you don't have to eliminate evening eating altogether. Keep in mind though that calories still count, especially with foods consumed closer to bed time.  Also, indigestion and poor sleep are concerns.  Enjoy a small snack while eating mindfully and not too close to bedtime. Here are some nutritious snack ideas that won't cause any dietary destruction.
Avocado Toast
Place thin slices of avocado on a slice of whole-wheat toast. Drizzle a bit of olive oil over the top and sprinkle with sea salt for a nutrient-dense snack packed with healthy fats.
Frozen Grapes
Spread red and green grapes out on a baking sheet and freeze until firm. Remove grapes from pan and store in an airtight baggie in the freezer for a convenient go-to anytime you're battling a sweet tooth.
Hummus and Veggies
Slice up some carrots, celery, cucumbers and peppers. Dip in store-bought hummus or make your own in just five minutes by combining chickpeas, lemon juice, tahini, garlic cloves, olive oil, cumin, salt and paprika in a food processor or blender.
Oatmeal
Add almond milk to a half-cup of rolled oats and microwave for two minutes. Mix in one sliced banana and a spoonful of all-natural peanut butter. Drizzle agave nectar and sprinkle cinnamon and milled flax over the top for a sweet and hearty treat.
Popcorn
A light and airy snack that will fill you up, without filling you out! Place a large pot over the stove on medium heat. Add one tablespoon of coconut oil and let it melt. Pour in a quarter-cup of popping corn kernels and cover with lid. When popping begins shake pot frequently. When popping subsides, remove pot from burner and shake one last time to prevent burning. Pour popcorn into a bowl and sprinkle with sea salt.
Yogurt
Spice up a bowl of plain Greek yogurt with mix-ins like almonds, rolled oats, blueberries and cinnamon.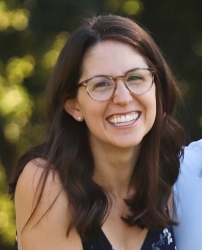 Latest posts by Erika Gruszewski
(see all)