Being a teenager and going through high school can be difficult. There are classes to keep up with, sports commitments and demands for your time from family and friends. And, for Brittany McNair, a cancer diagnosis.
McNair was diagnosed with osteosarcoma June of 2005, the end of her freshman year of high school. She went to the doctor after not being able to walk and after several tests, found out that she had cancer in her right leg.
The former three-sport athlete went from running daily for soccer and indoor/outdoor track to relearning how to walk. She didn't think she'd run again.
The high school years are a time when your peers are constantly judging you. Because chemotherapy treatments caused her hair to fall out, McNair feared having her picture taken or being asked to remove her hat. She also learned to get creative to avoid the dreaded hospital visits. (More on that later.)
With the help of friends, family and a local nonprofit, McNair found a way to keep some of the normalcy of her teenage years. Her family also emerged stronger and closer as a result of it.
A Visit to Her Hospital Room
In August of 2005, surgeons replaced the bones in McNair's right leg with a metal prosthesis. At the same time, they removed her calf muscles and performed knee replacement surgery on that leg. She was 15.
As she recovered in the hospital, McNair received a visit from Lauren Spiker, executive director of 13thirty Cancer Connect, formerly known as Melissa's Living Legacy Teen Cancer Foundation. Spiker had formed the organization three years prior after her daughter, Melissa, died of cancer, and was running it from her home.
On the wall at 13thirty Cancer Connect is Melissa's request of her mother before she died, "If you have learned anything from me through all of this, do something with it to make a difference – to make things better."
Spiker explained her daughter's request.
"When Melissa was going through treatments for cancer as a teenager, we noticed that there weren't many support groups for teenagers or young adults."
Spiker visited McNair in the hospital to invite her to join their support groups, including a popular pancake breakfast at Spiker's home with other teenage cancer survivors. A few weeks later, McNair participated in a photo shoot for a brochure for the organization. From that day, McNair has continued to attend 13thirty Cancer Connect events.
"13thirty Cancer Connect helped me in ways I couldn't even begin to describe," said McNair. "I've made lifelong friends there, and I am so thankful for them."
The organization welcomes individuals ages 13 to 30 who have cancer and their families. A few years after McNair joined the group, 13thirty Cancer Connect began offering fitness classes to give people who have been diagnosed with cancer a chance to exercise with the supervision of a physical therapist and get their strength back.
"Our program was able to recently expand, thanks to a $3,000 grant from Excellus BlueCross BlueShield," said Spiker.
It was through this program that McNair started to run again.
Friends on the field
McNair was lucky to have friends who worked hard to keep her connected to high school (and all the drama!).
Her soccer teammates and their families took turns decorating and filling a box of goodies for McNair to have before she went to the hospital for chemotherapy on Fridays. She found the box on her front porch every Thursday.
"I would be in the hospital all weekend and my teammates would give me everything from candy to DVDs in that box," said McNair.
McNair's favorite? A barf bucket. (The chemotherapy made McNair pretty sick!) It was decorated with different words and phrases related to barfing.
After her diagnosis, one family gave her a laptop to help her keep up with school, but she also used it to keep up with her friends and high school happenings.
"AOL Instant Messenger was the big thing then, and I would be on my laptop all the time talking to friends so I was kept in the loop," said McNair.
Her friends also would visit her at home and in the hospital. As often as she could, McNair would go to basketball games to watch her sister cheer, and she'd also sit on the bench and help her coach during soccer games.
A birthday to remember
McNair really wanted to be in school with her friends on her 16th birthday on Dec. 23, 2005. Usually her birthday falls during winter break, when there's no school, but that year was an exception.
On the morning of her birthday that year, McNair's mom – Jennifer Arnold – noticed that her daughter felt hot. So Arnold took her temperature. If McNair had a fever, that meant she'd have to go to the emergency room and would automatically be in the hospital for 24-48 hours. When Arnold came back, McNair's sister was in the room.
"I didn't think anything of it," said Arnold. "I figured they had just been talking before Brittany's sister went to school or something."
Arnold looked at the thermometer and it read a normal temperature. Arnold made McNair take her temperature again, but this time she didn't leave the room.
"The thermometer said she had a fever just like I thought," Arnold said. "Brittany's sister took her own temperature, and the girls tried to trick me!"
McNair's friends ended up visiting her in the hospital and celebrated her birthday there.
It wasn't the first time her friends or family were willing to intervene on McNair's behalf.
 "I don't know why it was such a big deal."
When McNair walked into the school cafeteria to take her regents exam, the proctor wouldn't let her in because she was wearing a hat.
"I don't know why it was such a big deal," said McNair. "I guess they were worried I was going to hide notes in my hat or something."
McNair refused to take off her hat. She didn't want to tell the proctor that she was embarrassed of her bald head. Eventually, one of her friends stepped in and explained why McNair wanted to keep her hat on. The proctor let her into the cafeteria to take her test.
After she sat down, a different proctor also asked her to remove her hat. Again, she refused. This time, a math teacher intervened and said that she could keep her hat on.
That night, Arnold attended a basketball game to see Britany's sister cheer. The same math teacher approached her and apologized. He hoped that her daughter did well on the test.
"Brittany hadn't told me that anything had happened at the regents test so I was trying to think of what could have possibly happened," said Arnold, adding that she was also thinking , 'Well I'd be more concerned that she didn't do well because of all the work she hasn't been doing."
It wasn't the first time McNair fought requests to remove her hat.
Learning to embrace her bald head
Like most 16-year-olds, McNair was eager to get her driving permit. She went to the DMV to take the written test and after passing it, stood in line to have her picture taken for her license. The photographer told her to remove her hat. McNair refused.
"My dad started arguing with the people at the DMV to let me keep my hat on and eventually they did and took my picture," said McNair. "After that, when people looked at my I.D., they were confused to see that I was wearing a hat."
McNair was determined to learn to drive during her sophomore year. Since she was still relearning how to use her right leg, used two feet instead of one to apply the brakes or use the accelerator.
"Looking back on everything from when I was diagnosed and going through chemo, I would tell other people going through the same thing to take pictures and rock the bald head," said McNair. "Those are the two things I wish I had done.
Non-traditional Christmas
Arnold thinks back fondly on Christmas that year. It was a few days after McNair's birthday fever and she was still in the hospital. She and her husband agreed to bring both McNair and her sister three presents to open at the hospital; they could open the rest when McNair returned home.
"My husband and I made two trips from the hospital to the house and back to pick up more presents because the girls didn't want it to end, they were having so much fun," said Arnold.
When McNair came home on New Year's Eve, her parents said she and her sister couldn't open the rest of their presents until the next morning. They wanted the girls to have that feeling of waking up and seeing presents under the tree.
"The girls went to bed at 3 a.m. on New Year's Eve and then woke up a few hours later to open presents," said Arnold. "It wasn't a traditional Christmas, but we made the most of it and that's what made it so special. "
Changing the family dynamic
Mother and daughter smiled and laughed as they recalled those special memories. "Brittany's cancer diagnosis definitely changed our family dynamic for the better," said Arnold. "We're all incredibly close and I love it."
McNair, now an avid runner, made her athletic comeback October 2014 running the Bandana Bolt 5K at Seneca Park, thanks in large part to 13thirty Cancer Connect's fitness program. Her mom joined her for the race as a fellow runner.
"With this new awesome fitness program that I've been doing for a couple years now, I'm slowly regaining my strength in my leg, regaining confidence and regaining the old me that was that former athlete," said McNair.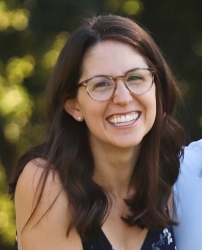 Latest posts by Erika Gruszewski
(see all)