When your 58-year-old dad drops to the floor and dies of a heart attack in a hospital emergency room, you take notice.
The event that triggered this wake-up call for Meghan Dailey of Rochester occurred seven years ago. She talks about it as if it just happened yesterday. It's that fresh and real in her memory.
The heart attack: the scariest hour and a half of my life
The day started out pretty ordinary as typical workdays go. Meghan was working at Excellus BlueCross BlueShield in downtown Rochester. It was mid-October. It was one of those early fall days, when you just start noticing that the weather is getting a little cold.
What interrupted this otherwise unremarkable day was a call from her mom. She said that her father was in the emergency room at Unity Hospital in Greece. He had suffered a heart attack and collapsed right there in the ER. His heart had stopped beating. Doctors were trying to resuscitate him with chest compressions and the jarring shocks of an automated external defibrillator.
Meghan and her two sisters rushed to the hospital in time to witness their father's revival. He was immediately wheeled in for surgery. The doctors inserted two stents to open up the clogged arteries in his heart.
"It was awful," recalled Meghan. "Probably the scariest hour and a half of my life."
He didn't think he was having a heart attack
They sat in the waiting room with another group that was expecting word on their loved one. Meghan and her family never stopped praying even as they waited anxiously.
A doctor came in to tell the other group that their loved one hadn't made it. Dailey thought their family's turn would be next.
"Thankfully, our Dad made it through the surgery," she said. "He was in the intensive care unit for another week and then was able to go home to recuperate."
What's not so unusual about this story is that Mike Schuth, Meghan's dad, didn't think he was having a heart attack. He thought the five- or six-hour pain he'd had in his shoulder was indigestion. According to his daughter, Mike decided to go to the emergency room only because he thought that's where his doctor would send him.
Ever since Meghan could remember, she knew that her dad had high blood pressure. "Heart disease runs in the family," she said. "My grandpa died of a series of heart attacks."
The chef finds healthier ways to eat
Acknowledging that her father knew he should be careful with his health, Meghan is quick to point out that her father works as a chef.
On the job at Salmon Creek Country Club in Spencerport, he never thought twice about adding a little extra butter, heavy cream and Parmesan cheese to his fettucini dishes, or some additional salt to flavor his house specialty – steak with mashed potatoes.
"His favorite foods used to be linguini with white clam sauce, fish fries and macaroni salads," said Meghan. Following the heart attack, his talent as a chef helped him find ways to modify the recipes he uses for himself and his family.
He's learned to make more heart-healthy dishes without unnecessarily sacrificing quality and flavor. Scroll down to see his recipe for a lighter version of Alfredo sauce. Please add your heart-healthy recipes in the comments section below.
After a heart attack: walking, medication and golf
He watches what he eats and favors more fresh vegetables over foods like French fries But Mike also adheres to the medication regimen prescribed by his physicians to control his high blood pressure and high cholesterol.
He also started walking more. During winters spent in Fort Myers, Florida, Mike walks every day and golfs three times a week. Back home in Brockport, Meghan's dad maintains the same routine.
Mike's efforts at watching what he eats have paid off in spades. He lost 40 pounds in twelve months.
Being around for his grandchildren
Over the last couple of years, Meghan's dad has gained added incentives to remain healthy. His three daughters have given him five grandchildren between them.
"There's no doubt that he wants to make sure he'll be around for his grandchildren," said Meghan. "The kids adore him, and he loves being around them." Her own two children range in age from 15 months to 3 years.
Since their father's heart attack, the family recognizes the prevalent role that heart disease plays for them and keeps extra vigilant. "My sisters and I try to teach our children that veggies are an integral part of every meal," said Meghan.
"We also try to maintain an active lifestyle and incorporate activities in everything we do," she added. That comes in the form encouraging her daughter to pursue gymnastics, or to go outside to get some fresh air and play.
American Heart Association Rochester Heart Walk
One activity that the whole family, including grandpa and grandma, is actively involved in is the American Heart Association's Rochester Heart Walk.
Meghan served as co-chair with Marty Cranmer, IT project manager, of the Excellus BlueCross BlueShield Rochester teams that participated in the walk. This year, the event was held in April at Frontier Field. Meghan and her family were there, supporting an event that raises money for what she feels is the best cause. With around 60 members on the Excellus BlueCross BlueShield team, the group raised close to $6,000 for the cause.
"I support the American Heart Association because my Dad and I are really close." she said. "I'm so lucky that he's still alive, and I feel blessed that he is."
Heart-Healthy Recipe
Here is Mike Schuth's recipe for heart-healthy Alfredo sauce.
Light Alfredo Sauce
¼ cup butter
1 clove garlic, minced
2 cups skim milk
1 package low-fat cream cheese
1 cup grated Parmesan cheese
Black pepper to taste
Melt butter in a saucepan over medium heat.
Add cream cheese and garlic to butter, whisking until melted.
Add milk, a little at a time, while whisking to smooth out lumps.
Stir in Parmesan cheese and pepper until smooth.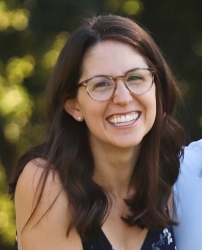 Latest posts by Erika Gruszewski
(see all)