I get migraines. Lie in bed all day, can't think, light-and-sound-sensitive, pounding migraines.
Since elementary school, I'd get such bad headaches that I couldn't eat, deal with small amounts of lights or noise, and would occasionally throw up.
I always found a way to deal with them. I'd use pillows and blankets to cover the lights and would always carry a bottle of Excedrin Extra Strength Migraine.
Last year, however, the Excedrin stopped working. I visited doctors and tried different medications. But I'd still get migraines once a week for 24 hours or more.
But as I battled these extreme headaches, my best friend and fellow migraine sufferer stumbled upon something that actually worked. She found a non-medication route that took her from three migraines a week to zero. Those results sounded great! So I decided to give what she was doing a try – The Whole30 eating plan.
Is the Whole30 the Cure to Migraines?
The Whole30 is a "short-term nutrition reset" developed by Melissa Hartwig in 2009. She noticed that certain food groups could potentially cause problems with certain people. Therefore, she suggested that people try cutting these foods out of their diets for 30 days. Then you'd slowly introduce these foods back into your diet to help you determine the cause of the migraines.
While on the Whole30, you eat real, whole foods including moderate portions of meat, seafood, and eggs, vegetables, fruits, natural fats, and herbs, spices, and seasonings.
You avoid eating:
Sugar. Whether it's real or artificial, it is out for 30 days.
Alcohol. In all forms, even for cooking.
Grains. Think of all forms of grains, even the gluten free ones, and say goodbye.
Legumes. This means beans, peas, lentils, peanuts (no peanut butter), and soy.
Dairy. Cow, goat, or sheep – it doesn't matter. All types of milk products are out.
Carrageenan, MSG, or sulfites. If these ingredients appear in any form on the label of your processed food or beverage, it's out.
There are a few exceptions to these rules and additional rules that are important to note, for those check out the full program rules here.
But is Whole30 Really Healthy?
Before I go any further, I have to stress that this story is based solely on my experiences. Excellus BlueCross BlueShield, the sponsor of this blog, does not endorse this diet.
The diet does include a lot of healthy stuff, and removes many unhealthy things. The diet focuses a lot on vegetables, for example, and bans sweets and junk food. Many of the avoided foods in the Whole 30 plan have also been recognized by medical professionals as common triggers of migraines, including MSG, alcohol and certain dairy products.
The concern? The diet also eliminates foods that are great sources of important nutrients, including beans and whole grains, said Amanda Shanahan, a registered dietitian with Excellus BCBS. These types of foods, for example, are keys to digestive and heart health, she added.
"Fortunately, this is only supposed to be a 'short-term nutrition reset,'" said Shanahan. "But individuals should consult with their personal physician and/or registered dietitian for guidance before tackling new diets, such as Whole30."
How to do Whole30 on Campus
I live on campus and have a meal plan.  Therefore, my first step was to email the culinary service to figure out what I could and couldn't eat on campus.  My second step was to go grocery shopping to get snacks and food to eat in case I didn't have time to eat on campus. After a long trip to Wegmans, and after reading every label trying to find a compliant salad dressing, I picked my start date and was ready.
Eating On Campus
I usually eat on campus for two meals a day: lunch and dinner. I also have a very busy schedule so I don't always sit in the dining hall for both of those meals. I'm often running to cafés on campus to grab food to eat in class or at work.
In the dining hall I ate:
Grilled Chicken. Available at both lunch and dinner, this was one of the first things I asked about when I emailed the culinary service.
Salad. There's a great salad bar with different greens and tons of raw vegetables. I did avoid the salad dressings since I wasn't sure of its ingredients.  This was a great spot if I needed something fast or just wanted to add raw veggies to a meal.
Stir Fry. I'm lucky to have a stir fry station where you load up a container with all the vegetables you want, choose to add chicken, steak, crab, shrimp, or tofu, and then its grilled in front of you. The only Whole 30 compliant sauces were Tabasco and Frank's Hot Sauce.
Fruit. Always choices for fresh fruit.
Hard Boiled Eggs. Available daily. I might eat them alone or add to my salad or stir fry.
Grilled, cooked, or steamed vegetables. The Vegan/ Vegetarian Section. I made a habit to start checking this section of the dining hall knowing that the vegan foods would be dairy-free and could possibly be complaint with the eating plan.
From the on-campus cafés I ate:
The build-your-own-salad option with grilled chicken or hard-boiled eggs. Of course, no salad dressing.
Secrets to sticking with the Whole30 diet
I learned that the key was to bring in my own extras. I might bring my own dressing to add to salad, stir fry or on top of grilled chicken.  Or, I'd bring guacamole or salsa to also add on top of the grilled chicken.
I challenged myself to try new foods and found some that I liked, such as parsnips and tilapia.
The dining hall staff was extremely helpful. One day I had a question about whether I could eat something, and found myself talking with the head chef and two sous chefs. They explained how they prepared the dish. The head chef even gave me his cell phone number so I could text him when I had a question.
Challenges to the Whole30 Diet
One huge challenge was walking into the dining hall and being surrounded by food that I couldn't eat! Passing by the pasta station when I craved a big plate of pasta with blush sauce was torture!
Another big challenge was the Whole30's limited food options.  I often felt frustrated going to the dining hall or the cafes.
My favorite part of the Whole 30 Diet
The best part of doing the Whole30? The excuse to cook for myself! I love to cook, but it's hard to cook when you live on campus. Lucky for me I have a boyfriend with who lives off campus, hates to cook, and will gladly eat anything I make. We made a lot of marinated chicken with veggies and potatoes as a fast and easy meal but also explored new recipes. A few of our favorites were crockpot beef and broccoli with cauliflower rice, spaghetti squash with ground turkey and marinara sauce, and almond crusted tilapia with baked potatoes.
Whole 30 and Grocery Shopping
Grocery shopping is a challenge. But I quickly got really good at reading the ingredient list on every label to see if it was compliant with Whole30. I learned that nearly everything has sugar in it. I don't get why it's necessary to add sugar to things like salad dressing or marinara sauce or even chicken sausage. But I can confirm there is sugar in most of these products.  Soybean oil is also in most everything, and that's another item you can't eat!
Some of my favorite things to buy when grocery shopping were:
Larabars. The bars are made from two to six ingredients and are sweetened by dates. They are great for on the go and became a big part of my breakfast. But be careful. Only certain flavors are Whole30 approved. My favorite Larabars were the lemon and cashew cookie ones.
Salad dressing. The three dressings I always had on hand were:

 Annie's Lemon and Chive Dressing (bought at Wegmans). A favorite marinade for chicken and a topping for seafood stir fry
Trader Joe's Tuscan Italian Dressing. Another favorite chicken marinade, great on salads and any type of stir fry;
Primal Kitchen's Caesar Dressing (bought at Wegmans). Great on salads.

Dried Fruit. My favorite was Bare's dried apple chips. The plain and cinnamon chips are both delicious. I mean "eat a whole bag in one sitting" delicious.
Hint Waters. I got tired of drinking regular water. Naturally-flavored water like Hint saved the day. Again, be careful because not all flavors are Whole30 approved. My favorite "approved" flavors are cherry and watermelon.
Guacamole. The brand Wholly Guacamole is approved and makes individually packaged 2 oz. minis, which are perfect to carry around to put on top of grilled chicken or turkey burgers.
Unsweetened Applesauce. The perfect after-dinner snack, especially when everyone is eating dessert around you. I typically bought Trader Joe's brand, but you can also buy Motts or generic brands.
Whole 30: My Results
If you can believe it – I made it through the 30 days without straying from the plan!
I only had two migraines during the time! Both migraines were after stressful days so the cause could be attributed to that. I also lost 13 pounds. The weight loss was something I didn't expect since I didn't work out at all that month.
Overall, I was pleased with the results. Even though the 30 days have ended, I will continue with some of my new eating habits. I'm now an expert in avoiding sugary foods and a wiz at finding healthy snacks and making veggie-heavy dishes.
I'll continue to work with my doctors on treatment options for my migraines. I also want to see if certain foods trigger my migraines. So I will slowly add these foods back into my diet so I can see if one of them is the reason for my headaches. In general, keeping a food journal can be helpful for those with chronic migraines because it can help to identify potential food triggers.
I don't want to eliminate all these foods forever, especially since many of them – such as beans and whole grains — are the building blocks to good health!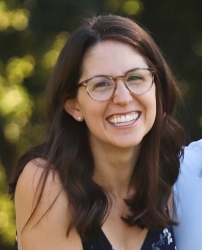 Latest posts by Erika Gruszewski
(see all)