Trail mix is my go-to afternoon snack. It's the perfect blend of salty and sweet that keeps me going from lunch until dinner. Trail mix is also easy to pack and stores well. The next time you're in the mood for trail mix, head to the bulk section of the grocery store and build your own! The perfect trail mix is all about getting a good blend of your favorite ingredients.
Nuts
Nuts are a great source of protein and fiber that help fill you up. They are also good for your heart with lots of healthy fat and omega-3 fatty acids. My favorites are almonds, walnuts, cashews, and pecans.
Tip: Look for unsalted and unsweetened nuts. Choose raw or roasted (your preference!). Nuts are high in calories so a one-ounce serving per day is all you need to get those health benefits. What's a one-ounce serving? It's 24 almonds, 18 cashews, 35 peanuts, 15 pecan halves or 14 walnut halves.
Seeds
Seeds can help boost your immune system because they have lots of zinc and selenium. They also contain calcium which helps to keep bones strong. I love pumpkin, sunflower, sesame and chia seeds.
Tip: Look for unsalted and unsweetened seeds. Like nuts, seeds are high in calories, so keep portions on the smaller side.
Dried Fruit
Dried fruit has many of the health benefits of fresh fruit. Many dried fruits pack antioxidant power (like dried Goji berries), promote heart health (like dried apples), and are rich in potassium (like prunes and dried apricots). The USDA recommends that everyone ages 2 and older eat at least one cup of fruit per day. Adding fruit to trail mix helps make that goal easier. My preferred dried fruits are raisins, dried cherries, and dried cranberries.
Tip: Look for dried fruit without added sugar. For portions, about 1/2 cup of dried fruit = 1 cup of fresh fruit.
Whole Grains
Whole grains add some crunch to your trail mix. They are a good source of fiber, iron and many B vitamins. Eating whole grains may help reduce blood cholesterol and lower the risk of heart disease, obesity and type 2 diabetes. Adding whole grains to trail mix also helps keep you feeling full long after eating. I like to add whole grain cereals, whole wheat crackers or air-popped popcorn to the mix.
Tip: Not sure if a product is a whole grain? Check the label for "100% whole grain" or "100% whole wheat".
"Sugar and Spice"
A little "sugar and spice" goes a long way! Adding a few dark chocolate chips or unsweetened coconut flakes can take your mix from drab to fab. If you're looking for a more savory and less sweet mix, try adding some spices, like cinnamon, turmeric, curry or cayenne pepper, to bump up the flavor.
My Go-To Trail Mix Blends
Fall Adventure Mix
Pecans
Walnuts
Pumpkin seeds
Wheat Chex cereal
Dried cranberries
Pumpkin pie spice
Dark chocolate chips
Sun Mix
Cashews
Almonds
Sunflower seeds
Golden raisins
Unsweetened Coconut flakes
Game Day Mix
Almonds
Peanuts
Pistachios
Raisins
Air popped popcorn
Pretzels
Dark chocolate chips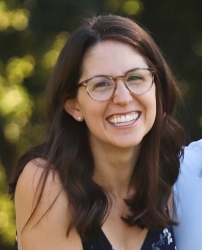 Latest posts by Erika Gruszewski
(see all)