Given that current weather forecasts for our part of the Northeast are including numbers below the magical 32 degrees Fahrenheit, my mental homeowner 'to do' list includes clearing the leaves, starting the snowblower, and so on…standard stuff you may say.
But even now, I catch myself dreaming of the next item…re-assembling the backyard ice arena, aka "Kane Rink."
You may then quip "Are you nuts? Sounds like a lot of work!" And I'll agree, but smile, fueled by a fond, selective memory.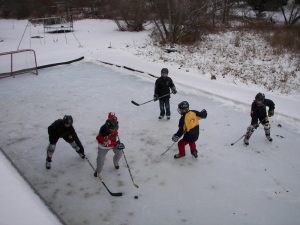 Setting up the ice rink: Lots of trial and error
For nearly 10 winters, my sons and I (and occasionally my wonderful wife/hockey mom) would spend the better part of each Thanksgiving morning:
Re-assembling the pressure-treated frame boards (aka our first deck frame) for the border of the rink,
Screwing in the assorted galvanized straps and connections to secure the frame,
Unrolling and leveling the huge marine grade tarp over the ground and frame walls,
Starting the two-day water filling process, with 4" – 6" depth the goal for ease of freezing and maintenance.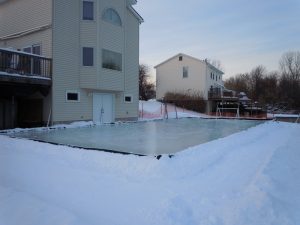 Though the instructions SOUND simple, there was a lot of trial and error, and talking to other "crazy" "North Coast" (Webster borders Lake Ontario) parents like us. Some other, much more sane parents, might even ask "isn't the nearby Webster Ice Arena a half mile from your house?" "Yep, but you can't turn those lights on at 10 p.m. and play till you're tired, or any other time you want…and water is cheap!"
Second-hand hockey equipment is key
Only one of my boys actively played hockey. Yet both were good skaters and outdoor adventurers who had fun with friends at our house all the time.
We had spare skates and sticks of all sizes. Plus two goals and a shooting net behind one to enable retrieval of pucks without too many losses to the neighbor's deck for springtime discovery.
Since hockey families pass along items to newbies as their kids age out, we were lucky too. One parent gave us about 50 extra pucks. Another lent me his "NiceIce Resurfacer." It's a water pipe and cloth that evenly spreads the water. This tool saved hours of frustration and would have been worth buying for one season alone!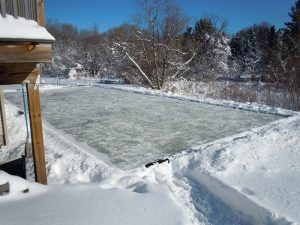 Building and maintaining the 25'x55' rink was a shared task and one with new lessons each year. Here are some of those lessons, just in case you decide to start your own "backyard rink" traditions this year.
Want to build an ice rink? Start online
Google "how to build a backyard hockey rink" and watch some of the videos. There are many, many theories, but you'll get the idea and answers to questions you hadn't even thought of.
Consider an online vendor such as NiceRink.com for supplies, brackets and such. There are so many other options, you can start simple when the kids are young and improve year to year.
Ice rink tarp tips
Try a marine grade or waterproof tarp instead of stapling sheet plastic. You can reuse the tarp for many years.
Try placing corrugated plastic drain pipe over the board edges to hold the tarp and protect it from skaters, pucks and shovels too.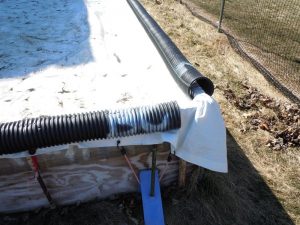 Clean that rink
Leaves from nearby trees have to be cleared promptly, or they will freeze into the surface and melt at a different speed than nearby ice due to color and sunlight. They create pits/holes in the surface of the ice.
Once the ice formed for the winter, clearing ANY snowfall was crucial within hours. If not, snow would melt then refreeze and/or worse create slush on the ice surface and the upper snow would create a blanket effect. I was in the habit of clearing the driveway and the rink all before sunrise. Again, a "North Coast thing" perhaps?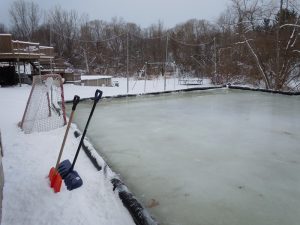 Finding the best spot for your rink
If your yard isn't 100% level, that's OK, the boards can be deeper in some spots. You can also bring in loads of dirt to improve your yard. Sixteen loads helped us!
Having a nearby source of BOTH hot and cold water is crucial to success. Sometimes hot water melted and easily leveled the top surface after skating or snow fell. A walk-out basement with available laundry tub served our needs. It also gave easy access to get back in the house when too cold to skate.
Lighting – if you can point some spotlights from your house to the ice surface, you'll have extended hours of fun!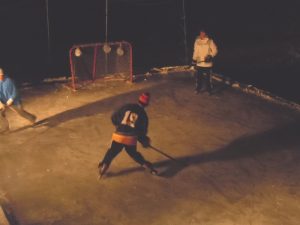 End of season fun
Buy a ~$30 battery-powered floating water pump for the end of season draining challenge – you'll thank me.
If you only take one end of the boards down in the spring, you can still mow your lawn AND save hours of work! Plus you can keep the goal up for summertime practice on a mat that might also save your garage door from round, black dents.
When you get to the point where the kids go to college (unless you've developed your own backyard game and parents' league), give away your gathered items. You'll be amazed how much spare time you'll get back in the winter! But it will be sadly quiet on those sunny, 15 degree days in January when you SHOULD be providing cookies and cocoa to a hungry crew. Savor those memories, they are worth the effort.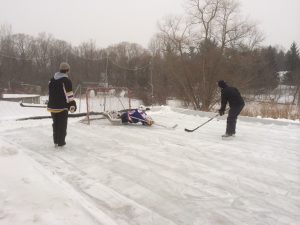 We know there's a lot of fellow upstate NYers who are skilled at building the backyard ice rink! Please share your tips and advice. We'd love to hear them.

Latest posts by Kevin Kane
(see all)