Working from home has been a bit of an emotional roller coaster for me. For the first couple of weeks I was loving it. I liked the short commute, cooking lunch in the kitchen, and being home with my wife and dog. Eventually though, the new environment started dragging on me. I missed my workspace, having meetings face-to-face, and the impromptu touch-bases that occurred in the cafe and hallways.
After a month or so I began to feel that I had a proper, functioning home office. I had a new desk, dual monitors, speakers, and a headset. All was well until late May when we had our first 90+ temperature days. The heat came on fast, and it came with a vengeance.
See, my house was built in 1889 and has nothing close to central air conditioning. Over the past few years that we've been here we've managed with one a/c window-unit in our bedroom. Even on the weekends, we're not typically home during the day so it suited us well.
Reviving "R2-D2"
One day, it suddenly became an issue. I specifically remember the first heat-blast. I was in my home office (which is on the other side of the house from our bedroom a/c), logging on to a video conference visibly sweating through my t-shirt and chugging water every 2 minutes. Needless to say, I didn't feel or look all that professional.
That night I went into our basement and dragged up an ancient stand-alone a/c unit that my wife had used in college, which she had received from her grandmother. We've nicknamed this piece of equipment "R2-D2". It is huge, it has wheels, and it connects to a window via a long plastic trunk-like tube. Despite its size and inconvenience, it's not that strong and takes a while to cool down the room.
This slideshow requires JavaScript.
It's also loud. It's so loud. It's on right now and it's driving me crazy…
I learned quickly that I am unable to participate on a meeting while this thing is running. It's that bad.
Over the past couple of months, I've had to adapt. I run "R2-D2" when I'm not on a call, but there are huge swaths of time where I am unable to do so. During these times, I've had to develop alternative methods to keep myself cool.
Ventilation is key
I thankfully have two windows on opposite sides of my home office. By opening both windows and opening the door I can get a decent cross-breeze, which helps tremendously. If it's really hot, I'll place a fan in the living room pointed in the direction of my office. This (hypothetically) moves some of the sacred a/c air from our bedroom in the direction of my office. If you don't have an a/c unit, multiple fans can be used to create a cross breeze too.
Hydrate
Drinking water can help keep you hydrated on hot summer days. Adults need roughly four to six glasses of water each day, and more when you're sweating. Working from home has the benefit of being a few steps away from the kitchen sink. This has allowed me to step-up my water game. Rather than rely on a single water bottle during a long call, I'm able to mute myself and refill as many times as I want.
Keep it Casual
Just because you're working from home, doesn't mean you're confined to your typical work wardrobe. If it's a hot day, socks and shoes are thrown aside, and I'll be sitting there in my gym shorts. This is way more comfortable (and frankly convenient) than the typical business attire I was maintaining in those first few weeks of working from home.
More tips to help you keep cool:
Close window blinds or curtains during the day
Avoid using your oven, dishwasher, and dryer during the day because they can throw off excess heat into the house
Take a cold bath or shower
Open windows in the evening when the air is cooler
Drape a cool washcloth over your neck or wrists
While it continues to be an ongoing challenge, my current cooling methods get the job done. I keep reminding myself that this is a temporary problem. We won't be working from home forever. Even if the current situation persists and I'm stuck in my home office for a while, we do live in upstate New York after all. I'll encouragingly remind myself that "winter is coming."
Sources: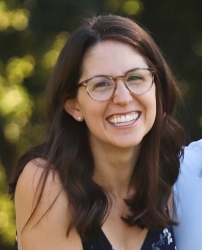 Latest posts by Erika Gruszewski
(see all)