When my daughter showed me a picture of a little pup found under a storage container in Afghanistan last fall, I was hooked. This puppy was beyond cute. It was a little ball of blond fur with these sad, brown eyes.
Inauspicious beginnings
Luna was one of nine puppies born among the dirt and rocks of a military base in Afghanistan. My daughter's fiancé, Jake, and his Army unit stationed there believe it was the mother's third litter, and that only one pup had survived from her previous litters.
According to Jake, the puppies in this litter were docile, sweet and loving. Luna was the one little pup that boldly approached him and nuzzled in under his feet. It wasn't long before Jake and my daughter, Mary, agreed to adopt her.
Move to Nowzad Animal Rescue Hospital
The contractors who worked with Jake on the Army base were equally taken with the litter. Thinking that the pups had little or no chance of surviving, they summoned all of their patience in coaxing and rounding up the pups and their mother for a trip to Nowzad Animal Rescue Hospital in the Afghan capital of Kabul.
Meanwhile, back in the states, the wife of a contractor connected with "This Is The Dog," a nonprofit animal rescue in Miami. It took some planning, a great deal of collaboration and incredible generosity on the part of people involved with this wonderful organization for the first steps in what seemed like a nearly impossible rescue operation to take shape.
Mary and I started making plans of our own for a trip to Florida to retrieve little Luna. Because she would arrive just before Christmas, flights and rental cars proved too costly, so we decided to take a road trip and drive to Miami instead.
Devastating news
While these details were being worked out, the puppies received their first round of vaccinations. Everything seemed to be falling into place, and things were going well, when we received some devastating news.
Luna, the little pup that bonded with Jake, had contracted parvovirus, a dangerous and deadly virus that is extremely contagious. Luna was the first puppy to die, and all of her siblings became very sick. We were crushed; we thought they'd be safe at the animal hospital.
Nowzad bravely treated all of them for parvo, but four more puppies died, and the remaining four were gravely ill. We were all heartbroken, but Jake was devastated.
Waiting for a miracle
"Unless a miracle happens, they most likely will all die," Jake dejectedly told us via Facetime. He seemed to have lost all hope and faith.
Not really knowing what to say, I reassured him that everything would be all right, even though I knew he was probably right. Mary and I cancelled our plans to drive to Miami.
It was just about a week before Christmas, when I received a text from Mary. The four remaining puppies were getting better. The plans were back on to bring them home, and would I still be willing to drive to Miami so we could rescue Noah, one of the four remaining puppies.
Coming home
The pups were granted visas and passports from the Islamic Republic of Afghanistan. Determined to be healthy for travel by the Nowzad veterinarian, the pups left their early life in Afghanistan behind on December 17, 2018, and arrived safely at the Miami airport late on the night of December 19, 2018.
Four This Is The Dog volunteers were at the airport to greet them. One positive outcome from this sad situation was that there was room for the mother dog (since named Rosabella) to make the journey with her puppies. All five were placed in foster homes until their owners were able to get them.
Just like that, Mary and I left our home in Syracuse, N.Y., on Thursday, December 20, 2018, and arrived in Miami late Friday night. While we had excitedly had made plans to meet with Noah's foster mother on Saturday morning, we were a little apprehensive that day, not really knowing what he would be like.
All of our anxiety vanished soon after we glimpsed Noah and his brother in front of the house when we pulled in the driveway. He was very scared at first, but allowed Mary to pick him up and hold him.
We settled him into our car, equipped with a cage, food, water, blankets and toys, for the trip home. Noah cried a little in the car, but then lied down and really seemed to rest peacefully.
He had been through so much already in his short little life. During the long, 24-hour ride home, he mostly slept and came out of the cage for a treat or water every once in a while. We returned home on Sunday December 23, 2018.
Settling in
Since then, Noah has been adapting to his new life very well. Eager to investigate his surroundings, he tried to chew on everything at first. Now, he loves to play and run along the fence with the neighbor's dog. He's also very affectionate and really loves to snuggle.
He has some trouble listening (maybe he doesn't know English yet LOL). We plan to enroll him for training in the Clear Path for Veterans Canine Program.
I am honored and humbled to have been involved in this puppy rescue operation.
It was an unforgettable Christmas. Noah is home.
Postscript
The three remaining pups have been adopted. A family from Key West adopted Ezekiel "Zeke," and one of the contractors and his wife from Alabama adopted two puppies, Whidbey and Baker. Rosabella is currently being fostered and thriving in her new home.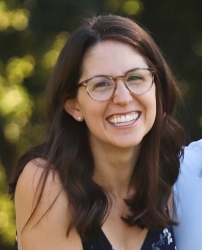 Latest posts by Erika Gruszewski
(see all)