Is meal delivery in a box for you? Maybe. These semi-prepared meals definitely get you out of a "cooking rut" and encourage you to change up your dinner offerings. Here's my two cents on some of the more popular brands, plus feedback from my colleagues who've also used them and other services. (This review is not an endorsement of any brand.)
I've tried three — Martha & Marley Spoon™, Blue Apron and Sun Basket. My co-workers have also tried Home Chef and the Rochester-based service, Kitchen Verde.
Here are reviews of Home Chef and Kitchen Verde
Home Chef: Never Have to Run to the Grocery Store
Robin Hendrick of Rochester and her husband get two to three Home Chef meals a week.
"I absolutely love it," said Robin. "I can pre-order up to six weeks in advance, cancel specific weeks when I won't need to use it, and personalize our profile for offerings." In addition, Robin said, "I never have to run to the grocery store to get that one forgotten ingredient."
"Weeks when I only need to order two dinners, I'll add a fruit or smoothie which brings my total above the minimum to get free delivery," said Robin. "It makes economic sense to pay $10 more for fruit than $6.95 for shipping."
Home Chef: Menu Choices
Recipes are marked as "heart healthy" or "carb conscious." There is a Classic Plan and a Value Plan. With the Classic Plan, you can complete a personal taste profile; you'll then be matched with weekly meal selections that meet your dietary restrictions and preferences. In addition, you can add smoothies and fruit baskets to your order. Some menus also contain breakfast and/or lunch items.
On the day we checked, these were some of the meals on the menu: Ribeye Steak Quesadillas, Garlic and Lemon-Crusted Salmon, Bone-in Pork Chop with Maple Butter, Hawaiian Turkey Burger, Roasted Skin-on Chicken, Pork Shumai Meatballs, Empada Rice Bowl, and Artichoke and Tomato Flatbread.
Check the website for pricing and special promotions. When comparing plans, be sure to check if there is a delivery cost, if the packaging is recyclable, if you can skip meals, and how far in advance you can cancel.
Kitchen Verde – The Rochester Option
 Melaney Bernhardt of Rochester uses Kitchen Verde.
"The meals are plant-based and oil-free and fantastic. They use seasonal ingredients and always taste great!" said Melaney.
Sarah Goodenough developed the Rochester, New York-based Kitchen Verde meal service after losing 156 pounds on a plant-based diet. Sarah is a registered nurse who is currently working on a certification in plant-based nutrition through the T. Colin Campbell Center for Nutrition Studies at Cornell University.
Her new lifestyle has motivated her to help others improve their health and quality of life.
Kitchen Verde Menu Items
Check the website for the week's offerings and costs for breakfast, lunch/dinner, snack boxes, organic cold press juices and "guilt-free" desserts.
On the day I checked, here's what was on the menu:
Breakfast meals: Spicy Tofu and Black Bean Breakfast Burrito, Chocolate Raspberry Parfait, Chocolate Almond Butter Pancake, and Spinach Artichoke Quiche.
Lunch/dinner meals: Chipotle Tofu Burrito Bowl, Lasagna, Chili Sans Carne with Cornbread, Goulash, White Bean Loaf Plate, Broccoli and Rice Casserole and Onion and Pepper Quesadilla.
Snack boxes: Mini Pumpkin Power Muffin, Apple Cranberry Walnut Salad, Apple Pie Chia Pudding
In Monroe County, you can have meals delivered for a $5 charge. Alternatively, on Sunday, you can pick up meals at 777 Culver St., Rochester, between 10 a.m. to 3 p.m.
If you live in Ontario County, you can pick up meals at the Sands Cancer Center on Mondays from 4:30 p.m. to 6 p.m.
Other Meal Delivery Services
To learn more about the other meal delivery services, read our reviews on: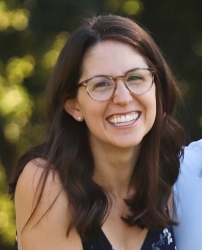 Latest posts by Erika Gruszewski
(see all)