Is meal delivery in a box for you? Maybe. These semi-prepared meals definitely get you out of a "cooking rut" and encourage you to change up your dinner offerings. Here's my two cents on some of the more popular brands, plus feedback from my colleagues who've also used them and other services. (This review is not an endorsement of any brand.)
I've tried three — Martha & Marley Spoon™, Blue Apron and Sun Basket. My co-workers have also tried Home Chef and the Rochester-based service, Kitchen Verde.
Here's my review of Blue Apron:
Blue Apron: Mixed Reviews
Blue Apron's introductory offer enticed me to try this popular brand. Again, the prep time was more than the stated half hour. I scrambled to make the meals before the produce wilted. Unless I planned to make the meal that day or the next, I froze the meat.
With the meals arriving in quick succession, I felt like I Love Lucy at the candy factory. She and Ethel failed to keep up with the candy wrapping as the chocolates arrived fast and furious on the conveyor belt. The next Blue Apron meals would arrive before I had gone through the previously delivered batch. It was too much too soon.
Lisa Weakley of Central New York has had better luck with Blue Apron. She's been a subscriber for three years. Shrimp Thai Soup is a favorite.
"I like not having to think about what to have for dinner three times a week," she said, adding that some of the ingredients are sourced from local small farmers, including Emmi's farm in Baldwinsville.
Still, she'd like more grill options in the summer.
Although he's only tried three meals, Jeff Borkowski, a vegetarian from the Rochester area, plans to use Blue Apron again. He cited the plan's affordability and high quality ingredients.
"The portions are perfect. I always eat everything on my plate, even when I shouldn't. I felt satisfied, but not stuffed," he said, adding that "the food is absolutely delicious!"
Bryan Adams, also from Rochester, liked how easy it was to make meals with Blue Apron. "Very family friendly, too."
He and his wife quit the service after a month citing the cost. A family plan for four meals a week was $143.84.
"It was more than my entire grocery budget for a 7-day week! And it didn't include kids' lunches, our lunches, breakfast, snacks and beverages," he said.
Pan Sauce Pizzazz
Rochester area resident Lauren Daley started using Blue Apron on maternity leave.
"It was nice to cook something and have it all portioned out," she said, adding, "The little bottles of condiments and vinegars and tiny packets of butter are adorable! Even the ice packs are cool!"
She continued the service after she went back to work.
"I learned some new techniques and to make something tasty with just a few ingredients," she said.
"For example, I didn't know how to make a pan sauce or a depressing little chicken breast have a little more pizzazz. It's made me 'scrappier' with ingredients I have on hand."
Although she's the "resident chef" in her home, Lauren said she and her wife make it a point to cook together.
"It was fun to pick our meals together online," she said. "And, it transformed making dinner into an actual experience rather than a logistical daily need."
With her wife's sensitivity to gluten, their only option was to pick meals without starches. Although Lauren could sometimes substitute by using her own gluten-free ingredients, it felt wasteful. She tried to reduce each meal's cost by stretching it to cover another dinner or lunch, but that wasn't always possible.
"So, I can't make it an all-the-time thing, but I go back from time to time just to spice up our menus and have a little extra time not dedicated to shopping and meal prep," said Lauren, adding that a gift card to Blue Apron is their go-to gift for newlyweds and new families.
Blue Apron Menus
 Menu choices are non-vegetarian and vegetarian. There are two-person and family plans (feeds four).
On the day we checked, menus included Chili Butter Steaks, Spicy Honey-Lime Chicken Tostados, Baked Cajun Catfish, Lumaca Rigata Pasta, Shitake & Black Garlic Rament, Curried Cauliflower & Lentils, Miso-Butter Pork Chops and Roasted Turkey Breast & Farro-Endive Salad.
Check the website for other menus, pricing plans and special promotions. When comparing plans, be sure to check if there is a delivery cost, if packaging is recyclable, if you can skip meals, and how far in advance you can cancel.
Other Meal Services
I've since tried other meal delivery services, including Sun Basket and Martha & Marley Spoon, and my co-workers have tried a few others as well.
To learn more about the other meal delivery services, read our reviews on: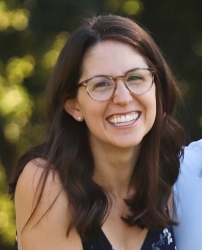 Latest posts by Erika Gruszewski
(see all)