This slideshow requires JavaScript.
What's the secret?
I was intrigued by the idea of a fast food place that served healthier food. That's why I found myself on a recent Saturday with my sister at CoreLife Eatery at 100 Marketplace Drive, Suite #520, in Henrietta, Monroe County.
I wasn't disappointed. They actually served a variety of fresh ingredients that you don't often see in fast-casual restaurants. For example, they had actual whole avocados, entire ginger roots, scallions, soy beans, and beets. In addition, all ingredients are free of "GMOs, trans fats, artificial colors, sweeteners and other artificial additives." Similarly, the chicken and steak are sustainably raised and never given antibiotics or hormones. They also buy local ingredients when possible. Check out the "local wall" for what ingredients came from your area.
The Details:
CoreLife Eatery was founded in North Syracuse in 2015. Their mission is to connect busy people with healthy, quick meals.
Upstate N.Y. Locations: Clarence, Greece, Henrietta, Ithaca, New Hartford, Syracuse, Vestal and Webster
Coming Soon: Amherst, Brighton, and Dewitt
Hours: Open 11 a.m. to 9 p.m. daily
Average price: $ – $$
Nutrition information available at eatatcore.com
Highlights:
The menu is divided into green bowls (salads), grain bowls, and broth bowls (soups). Select a bowl from the menu or build your own.
I loved the Chicken and Rice Noodle Broth Bowl. You could taste the freshness of the ingredients, especially the vegetables. Most of all, I liked the freshly cooked chicken rather than the overly processed "chicken" served at other fast-casual places.
Large portions. My sister, for example, saved half of her Thai Chicken and Rice Noodle Grain Bowl for later.
I spent around $10 for my meal and drink. It was well worth it, considering the quality of organic ingredients and portion size!
I was eating my food within 10 minutes of getting there. The speedy service would make this place a great choice for workday lunch breaks, too.
Don't Miss:
An impressive selection of freshly squeezed lemonades with flavors like Cucumber Basil and Cranberry Cayenne.
Looking for a healthier dinner to make at home instead? Check out this recipe for Chicken and Garlic Zoodles.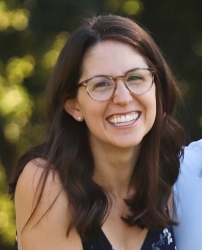 Latest posts by Erika Gruszewski
(see all)