It all started with this stew. Scanning the ingredient list, I saw a spice I'd never cooked with before: turmeric. I was hesitant at first but decided to try it. I picked up the bright yellow-orange spice from the grocery store and got cooking on a cold, winter day. While the stew simmered, wonderful smells of warmth wafted through my home. While eating, my head and heart were filled with words of comfort –like savory, cozy, rest. It was amazing.
That was it. I became obsessed. Each week, I hunted for one or two new recipes that included turmeric as an ingredient. Our house became regularly filled with the comforting smell while making curried coconut pumpkin soup with chicken and Afghan braised chicken in yogurt. I soon discovered turmeric could also be added to tea, smoothies, milk, and even ice cream. I'm looking forward to making these next, and trying out turmeric in the crockpot.
What's the secret?
Haven't cooked with this spice before? I was wary too, at first. Turmeric is bright orange and smells very different from the spices and seasonings I grew up with (salt, pepper, basil, oregano).
But if you love comfort food or eating things that make you feel warm and fuzzy inside, you'll probably love turmeric too.  
The Details
Turmeric (pronounced either "ter-mer-ic" or "tu-mer-ic") is a member of the ginger family. It has been used for centuries in Asian and Indian cuisines. Turmeric has an earthy, warm flavor that is slightly peppery and a little bitter. You can find it at your local grocery store, either ground or fresh (which looks a lot like ginger root).
According to the National Center for Complementary and Integrative Health, preliminary studies have demonstrated that turmeric and curcurmin (a component of turmeric) may improve many health conditions ranging from arthritis to skin irritation.  Should it be considered a "miracle cure-all" spice? Well, recent research suggests more robust studies are needed to know for sure.  Ready to try it?
Turmeric Highlights:
Cooking with turmeric, as well as other spices from basil to vanilla, can help lower your intake of fat, salt, and sugar. Cooking with a spice, for example, is often healthier than cooking with a high-fat ingredient, such as butter.
"Most spices are also very low in calories and inexpensive for the small amount used in most recipes," said Pat Salzer, registered dietitian, Excellus BlueCross BlueShield.
Personally, when I cook with turmeric, I find I also eat more vegetables, lean protein and whole grains. I love breaking out of my spice comfort-zone while making delicious, healthy food for my family.
Don't Miss:
These delicious and easy recipes starring turmeric:
Mealime – Curried Coconut Pumpkin Soup with Chicken
Mom's Kitchen Handbook – Afghan Braised Chicken in Yogurt
Oh She Glows – Cozy Butternut, Sweet Potato and Red Lentil Stew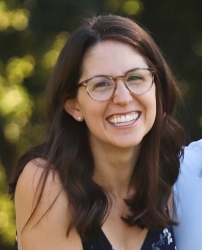 Latest posts by Erika Gruszewski
(see all)