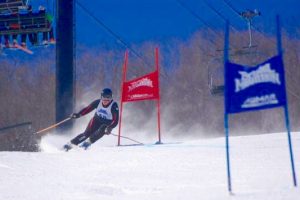 Living in upstate New York, it's almost inevitable that you'll end up trying to learn to ski or snowboard at some point. In my case, I had a boyfriend who grew up near a ski resort and raced his entire life, so I really didn't have an option not to ski.
I started learning to ski at the ripe old age of 22. I clicked my boots into my first pair of skis as he showed me the ropes at our local ski hill, Toggenburg, in Fabius, Onondaga County. I was not a stellar student and a wee bit apprehensive. But after about six weeks, I perfected my "wedge"—the beginner stance in downhill skiing.
Feeling confident that I could handle anything with my practiced wedge, we ventured out to Utah with six friends. On our first day, we went to Snowbird, an absolutely beautiful ski resort. At 11,000 feet, it's a big mountain! By comparison, the elevation at Toggenburg is 2,000 feet. As the skiing newbie, I trusted my crew of friends and my then boyfriend (my first mistake) as we started the first run at The Summit and a trail called the Cirque Traverse.  The sign screamed "Cliffs Ahead-DANGER!" which should have been a big clue that I was in way over my head.
The Cirque Traverse was basically a single track trail at the very top of the mountain with a steep cliff to the left—not my preferred way down. To the right and my only way down was what skiers call a "bowl." A bowl is basically a big, wide open, ungroomed, snow-covered cliff. Super!
Needless to say, there were a few choice words thrown around. I asked my beloved boyfriend, "How do I get into the bowl?" His answer: "You jump!"…. "I WHAT??!!!"
I figured my time on this planet was likely over. So, being the last one standing, I jumped into the bowl with my awesome wedge stance and was met with a lot of soft, fluffy snow. I had a blast, but I'm not sure I left much snow on the mountain. I quickly learned that the wedge stance works great on our hard, eastern coast snow, but it wasn't the thing for thigh-deep powder skiing! After a lot of laughter and many falls later, I made it to the bottom and decided I'd let my boyfriend live.
This is a picture half-way down the upper Cirque bowl: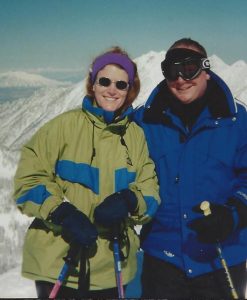 I married that nutty guy and had two kids who were also bitten by the ski racing bug. Over the past 15 years, we've spent a lot of time traveling around New York state and enjoying many of the local ski areas!
How to Get Started in Skiing and/or Snowboarding
Skiing and snowboarding are both excellent options to get you outside and active during the long upstate New York winters. Snowboarding is different from skiing in that you strap both feet into a single board to get down the hill. It melds skateboarding, surfing, skiing and sledding all into one.
Required Equipment
For skiing: skis, ski boots, bindings, poles, goggles and a helmet.
For snowboarding: a snowboard, snowboard boots, bindings, goggles and a helmet.
To go down the hill, you also have to get to the top beforehand! Depending on the ski area, you'll be brought to the top by a chairlift, t-bars or tow ropes. Bigger ski resorts, like Whiteface in Lake Placid, have a gondola lift. Chairlifts and gondolas let you sit and rest while going up the hill and allow for a pretty, scenic view.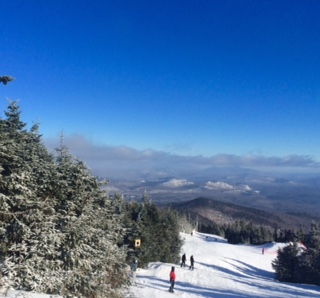 How to Know Which Downhill Trails to Use
The downhill trails vary from beginner to expert. These markings tell you the difficulty of each trail and are the same at all ski areas:

Green Circle: Easier
Blue Square: More Difficult
Black Diamond: Most Difficult
Double-Black Diamond: Most Difficult, use extra caution
Orange Oval: Freestyle Terrain
Ski areas are now going beyond traditional ways to get down the hill and are even providing terrain parks to challenge skiers and boarders with different obstacles, such as jumps, rails and half pipes. I'm in awe of people who ski and board in the terrain park, because they make it look so easy! If I attempted any of these, I would definitely be on the ground and all of my equipment strewn around me on the hill—what we call a "yard sale" in skiing.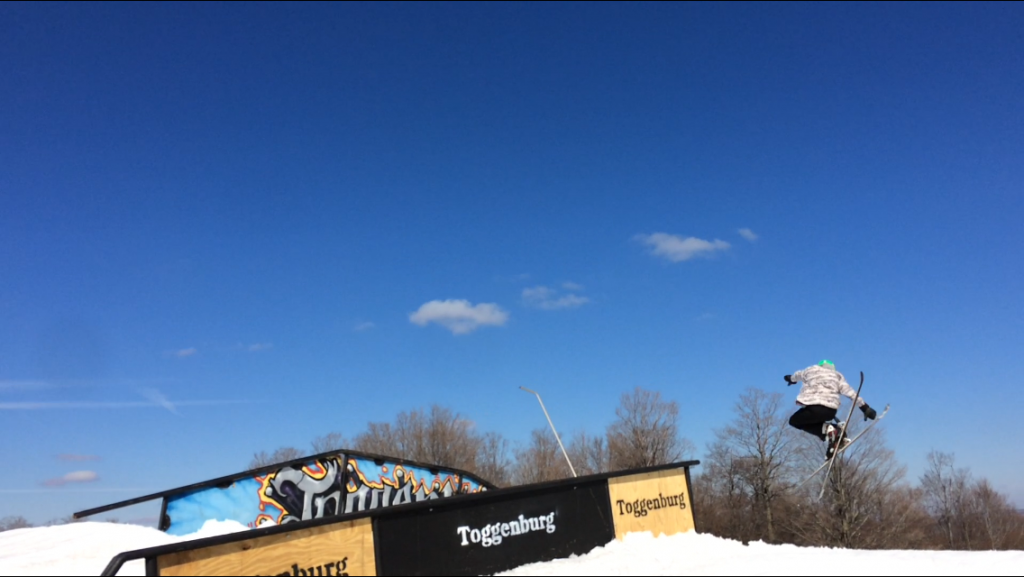 New York State has more than 50 ski and snowboarding areas. Most provide equipment rentals and lessons for skiing and snowboarding. These can be group lessons or private lessons. All you need to bring is yourself and your winter coat, snow pants, gloves, hat and a wallet.
In upstate New York, there are a number of excellent areas where you can ski and snowboard.
In the Buffalo area:
Holiday Valley, Ellicottville
Peek'n Peak , Clymer
In Rochester, you can enjoy:
In Central New York:
Near the Utica area, the Adirondack Park includes:
West Mountain, Queensbury
Whiteface, Lake Placid
Gore, North Creek
A little more local to Utica includes:
Snow Ridge, Turin
Woods Valley, Westernville
A little to our south, The Catskill Mountains have:
Windham, Windham
Hunter, Hunter
Belleayre, Highmount
For me, there's nothing better than arriving at the top of a mountain on a crystal clear, sunny day in winter and enjoying the view! Even after my husband and kids have ditched me and are racing down the hill, I am completely content to take my time and enjoy the scenery. I'm glad that I added skiing to my winter activities and learned to ski. It gets me outside and exercising with my family and I'm able to experience some of the most stellar views in our state.
If you are looking for something fun to do during our long, snowy winters, head to your local ski/snowboard area. Just be prepared to fall.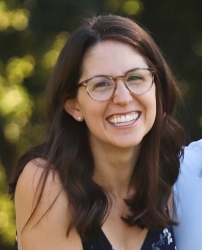 Latest posts by Erika Gruszewski
(see all)