Summer is a short season in upstate NY. That's why it's the perfect time to exchange your usual lunch out with a meal "al-fresco" at one of these picnic spots in upstate NY.
1. Porter Park, Youngstown, Niagara County
There is no better place to have a picnic than on Lake Ontario. You can see Niagara on the Lake, and on a clear day, you have a full view of Canada! The beach is rocky but there is always plenty of driftwood to sit on and enjoy the view. There is a large grassy area, picnic tables and pavilions as well. This hidden gem is set back from the road and most people drive right by it.
Further east on Lake Ontario is Hamlin Beach State Park. This park also offers sweeping views of the lake,  beach swimming (when it is warm enough!) and great picnic facilities including pavilions. While you're there, explore the self-guided trail of the Yanty Creek Marsh.
3. Highland Park, Rochester, Monroe County
Highland Park may be known for the Lilac Festival in the spring, but there's plenty to see all summer long in this park. Not only does it have plenty of places to sit in the grass or at a picnic table, but in the early summer, the trees are still flowering and bringing in a wonderful smell. Also, within the park is Lamberton Conservatory, which is full of large palms and ferns, as well as little button quails that run around your feet.
Head south to visit Stony Brook State Park. Enjoy a day in the park with a picnic and an adventure on the hiking trails. You can also go swimming in the natural pool, fed by the stream that is always refreshing.
This slideshow requires JavaScript.
Less than an hour from Stony Brook State Park, Harriet Hollister Park is another beautiful spot with picnic tables, biking trials and a pavilion. This park comes with a breathtaking view of Honeoye Lake and the Rochester skyline in the distance. Sixteen miles of hiking, biking and even cross-country ski trails are available.
6. Onanda Park, Canandaigua, Ontario county
Located on the western shores of Canandaigua Lake, Onanda Park park offers picnic tables, a small beach, a swimming area, and a lake view. The park also features numerous hiking trails across the street. Trails can be found that are close to the stream, as well as more challenging hills that give you views of the multiple waterfalls upstream.
This slideshow requires JavaScript.
At the southern end of Seneca Lake, Watkins Glen State Park is a perfect place for a relatively flat hike. You may get a little wet from the spray from the absolutely gorgeous waterfalls, but it is well worth it. They also have ample picnic tables to use after your hike.
This slideshow requires JavaScript.
8. Clift Park, Skaneateles, Onondaga County
A short drive from Syracuse, this park offers an incredible view of Skaneateles Lake. Make it an even better trip by stopping at Doug's Fish Fry for take-out to eat on the benches in the park. After your picnic, you can walk down the pier that stretches out into the water. The park also has a public beach that is open during the summer.
Named for its two glacial lakes, Green Lakes State Park has plenty of pavilions and picnic tables throughout the park, offering sun or shade depending on what you like best. After your picnic, enjoy a leisurely walk around the lakes or enjoy a swim in the blue-green waters.
It's the closest thing you can get to being at the ocean within an hour's drive from Syracuse. The sand dunes and miles of beach are beautiful with good sized waves for jumping or boogie boarding. There are plenty of picnic tables to use and a nice new playground. You can get ice cream at the pavilion after a long day at the beach.
This park has a large picnic and cookout area with a lot of tall shady trees. You can feel the breeze coming off Oneida Lake, which makes it a very pleasant place to spend a summer afternoon. Plus, there's the beach!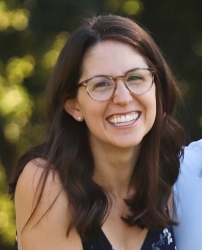 Latest posts by Erika Gruszewski
(see all)