I've recently dragged my family on a multitude of wintery adventures. Winter in upstate New York is frigid, endless and very snowy. I wanted to find ways to enjoy this time of year, not loathe it!
All of our adventures revolved (mostly) around getting outside and moving. I'm happy to report that all of our escapades were (mostly) successful at getting us to enjoy the frozen tundra of upstate New York!
Favorite winter hike
We've embarked on several hikes at the historic Fort Hill at Ganondagan in Victor, Ontario County.
On the hikes, my boys love to run ahead and sneak behind trees, trying to scare us once my husband and I catch up to them.
On a hike during an unusually warm Saturday in January, we hiked all the way from Fort Hill to Dryer Road Park! It took us at least 30 minutes, but the reward of the playground at Dryer Road kept them going.
(Just a warning that dad did have to run back through the trails to fetch the car while the boys played with mom at the playground.)
Where: Fort Hill at Ganondogan is off County Road 41 in Victor
What to know: Watch out for the mountain bikers! The Ganondogan trails intersect with the Dryer Road trails. The latter is known for its mountain biking.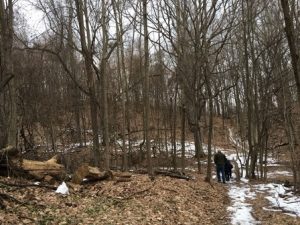 For more information: https://parks.ny.gov/historic-sites/attachments/GanondaganTrailMap.pdf
Learning to ski
My husband is the only pro skier amongst us. Dreaming of weekends spent skiing as a family, I signed my oldest son and me up for lessons at Powder Mills Park, in Pittsford, Monroe County. Swain Ski Resort and Monroe County Parks teamed up to bring downhill skiing at that park, which has a gradual hill that's perfect for beginners.
My son enrolled in a ski camp at the park during winter break from school. (The park also offers another camp during Presidents' Week in February.) I also took a one-hour "open group lesson" on a Sunday in January.
We're not about to tackle a Black Diamond trail anytime soon. But I'm happy to report that my son and I are A LOT more comfortable on skis and can kinda ski down a hill without falling (too much!).
Where: Powder Mills Park, 154 Park Road in Pittsford
What to know: There's a tow rope. A dreaded tow rope.
For more information: https://www2.monroecounty.gov/files/parks/Powdermills%20Park%202018%20Trifold.pdf
For more on skiing, read 18 Places to Ski & Snowboard in Upstate New York
Sledding
You'll need some kind of hill in your yard for this one. But for the second year in a row, my husband has dug a sledding "luge" course around our yard after every major snow. A lot of great outdoor time is spent racing down the course.
What to know: We found that digging out an actual sledding or "luge" course is essential if you want to avoid crashing into things in my yard – like trees, the pool, and the creek.
Hockey
I signed my son up for a beginner skating/hockey class. He hated it. Enough said.
What's next?
Snowshoeing! I can't wait to rent or buy snowshoes and take our outdoor adventures to the next level. I'll make sure to consult When In Snow Country, Snowshoe before taking the plunge.