This delicious Escarole and Pastina soup includes many Italian flavors that remind me of my childhood. What little Ragazzo or Ragazzi didn't grow up feasting on ingredients such as escarole, tiny pastina, and cannellini beans?
Alisa Fanara, my co-worker (and fellow Italian), shared this recipe. This soup is perfect for a wintery day. Add chicken or sausage to make the soup heartier.
Heat oil in a large pot. Add onion, carrot and garlic, salt and pepper. Cook on medium-low heat until the onion is tender, about 8 minutes.

Turn the heat to medium-high. Add the escarole and cook, stirring for a few minutes until the escarole is wilted. Add the broth, beans, and tomatoes. Simmer over high heat. Reduce the heat to medium-low. Simmer until the escarole is tender, about 20 minutes.

Add the spinach and stir for a minute or two minutes until the spinach is wilted.

Cook the pastina separately. Scoop pastina into the bowls. Ladle the soup on top of the pastina. Sprinkle with cheese. Serve the soup hot!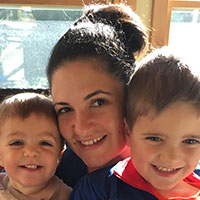 Joy lives in Ontario County with her boys (two sons and her hubby). She runs to stay sane and spends lots of time with her boys splashing in their creek and catching frogs and snails. She is a New England native who promises not to share her sports allegiances, although as an alumna of Syracuse University, she loves (loves) SU sports! Joy is a corporate communications manager at Excellus BlueCross BlueShield.