What's The Secret?
We "discovered" the park during one of our impulsive drives along Route 20, just south of Syracuse, NY.
We drove along with no particular destination in mind. But then we noticed a small sign a couple miles east of the village of Cazenovia, Madison County, telling us to take the next right to Stone Quarry Hill Art Park.  Neither my partner John nor I had ever heard of the park, so we decided to check it out.
This slideshow requires JavaScript.
What we found off Stone Quarry Road was a delightful fusion of art and the outdoors. Surrounded by farmland and wooded hills, Stone Quarry Hill Art Park consists of 104 acres of open land, where you can follow four miles of hiking trails to take in both countryside vistas and about 100 large sculptures.
The Details
Location: 3883 Stone Quarry Road, Cazenovia, NY 13035
Hours: Park open year-round; indoor gallery open May through October
Suggested donation: $5 per person; children 16 and under are free
For more: Go to sqhap.org
The Highlights – Where Art Meets Nature
The nonprofit art park was founded in 1991 by Dorothy Riester, a sculptor, and her husband, Robert. Although the land originally displayed mainly Dorothy's works, the park over time began to add creations by other on-site artists.  An indoor gallery holds additional temporary exhibitions during the summer and fall months, while the outdoor museum remains open year-round.
Natural materials make up some of the sculptures, which means that they change and perhaps even decompose with the seasons. This, and the ability to experience the park in different seasons, makes the park a place where art lovers of all ages can explore over and over again.
Stone Quarry Hill Art Park also hosts artistic events each year, such as the Syracuse Ceramic Guild Pottery Fair and a "Snow Drawings" event during Cazenovia's Winter Festival on Feb. 11, 2017. It's also become an increasingly popular site for weddings.
Don't Miss
Don't miss joining "Contemplating Man," a sculpture that surveys the view of the countryside from his vantage point at the top of the hill.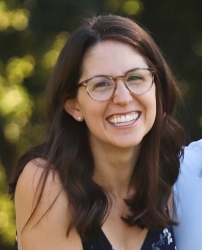 Latest posts by Erika Gruszewski
(see all)