What's the Secret?
You can find me at Cobb's Hill Park in Rochester, N.Y., on the regular, so it was quite a surprise to discover Corbett's Glen Nature Park—a stone's throw from Rochester city limits. I first went to Corbett's when I joined a Hikyoga session and I continue to go back because:
It's peaceful. Not many people are around and the park is a good distance from city noise, so you can really experience the wonderfulness of nature. Two miles of 8-foot wide trails makes Corbett's easy to navigate. Plus there's a creek with waterfalls—perfect for photographs and dipping your toes in!
It's cool.  If you take the Penfield Road entrance, it may seem like any old walk in the park at first. Don't be fooled like I was—you'll eventually come upon the most incredible train bridge. It was constructed in the late 1800s and is still in use today. The original landowner's house is backed up to the park too, giving you a glimpse into what it was like back then.
The Details
Address: 165 Park Ln, Rochester, NY 14625
Corbett's Glen Nature Park was dedicated in 1999, after the surrounding community rallied together to get the Town of Brighton to purchase the land. Read more about the park's preservation and history.
52 acres
A boardwalk area
A deck viewing area
A seating area overlooking Postcard Falls
There are NO restrooms and garbage receptacles
The park is open year-round, from dawn until dusk. If you're going, I recommend entering the park via the Penfield Road trailhead. It's at the intersection of Penfield Road and Forest Hills Road and includes an eight-car parking lot. The other entrance is located off of Glen Road, near Route 441. This entrance is great if you're not feeling a hike or want to get to the train bridge right away. In this case, park on the road before the tunnel. Walk through the tunnel to get to the trails.
Don't Miss.
The train bridge.  It's enormous and mind boggling how it was constructed without modern technology! If you're feeling brave, you can climb the steps (that lead to nowhere) on the right side of the bridge for a bird's eye view of the park.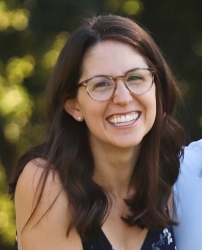 Latest posts by Erika Gruszewski
(see all)