There is no sign. You just have to know it's there.
What's the secret?
A few blocks up from Ontario Beach Park in Rochester, New York, is a secret walk through some of the most scenic backyards in the city. Starting near Beach Avenue and Tamarack Street is a three-block public sidewalk that borders Lake Ontario. The path seemingly goes right through the backyards and gardens of some of Rochester's most prized real estate.
This slideshow requires JavaScript.
It feels a bit odd, but it's perfectly legal to follow the sidewalk as it turns toward the shore and navigates along this city-owned right of way open to the general public. Along the way, you'll see beautiful lakefront houses, lush landscaping, sailboats on the lake and lots of birds. At the end of the walk partially off to the side is a statue of the Virgin Mary; it's believed to have once belonged to the nuns who were former residents of a nearby house long since demolished. The nuns may be gone, but the statue remains, covered with rosaries from those who've strolled along the secret walk over the course of many decades.
Don't Miss
Stretch your legs a little more and walk a half mile down to where Lake Ontario meets the Genesee River and enjoy a delicious custard at Abbott's Frozen Custard, ride the historic Dentzel Menagiere Carousel and stroll through the Port of Rochester Ferry Building.
Strap on your winter boots: The secret stroll can also be a great option for the colder weather months. (Although Abbott's and the carousel might be closed for the season! )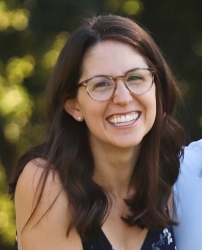 Latest posts by Erika Gruszewski
(see all)