I'm a Buffalo native. As far back as I can remember, the "City that Smells like Cheerios" was the most welcoming, happiest place I knew. So when I moved to the Rochester area, to attend The College at Brockport, I didn't know what to expect. I then snagged an internship at Excellus BlueCross BlueShield in downtown Rochester.
Along the way, I've come to learn that there are many beautiful treasures that the average passerby might miss without a keen eye. Thanks to some tour guides, that have now turned into friends, I have seen parts of downtown Rochester that I never knew existed.
---
WASHINGTON SQUARE PARK
In the middle of downtown Rochester, just a few paces from Geva Theatre, you'll find Washington Square Park. This park isn't "hidden" because you have to drive very far or follow a secret path to get to it. In fact, I drove past the park every day for two weeks before I even realized what it was. This attraction blends into the city so well; you might not even notice it, too.
Don't miss
Strolling through Washington Square Park puts your mind at ease. My favorite time to go is on my lunch break. In the middle of the park there is a memorial to Civil War soldiers! If you glance upwards, you'll see Abraham Lincoln looking toward the city.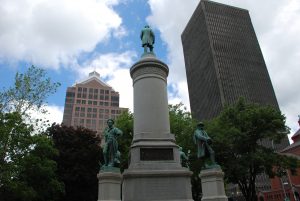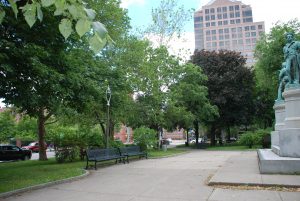 An Italian Twist
The park usually hosts an Austrian cannon that the Italian government bestowed to the City of Rochester in the 1920s. The cannon honored local Italian-Americans who supported Italy during World War I by either joining the Italian or American army. The cannon, however, fell into disrepair so it was removed from the park to undergo restoration.
For more information: http://www.cityofrochester.gov/article.aspx?id=8589935120
---
"SECRET ROOM" AT THE PUBLIC LIBRARY
What's the secret?
Unlike Washington Square Park, you have to search for this Rochester treasure. It's at the Bausch and Lomb Public Library Building, in the Children's Center, but that's all the help I'm going to give you!
Somewhere in the Children's Center, which is filled with colorful books and paper animals, there's a secret passageway that takes kids through a story book- like adventure, into a room that you can't see from the outside.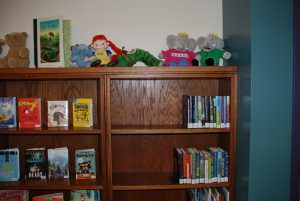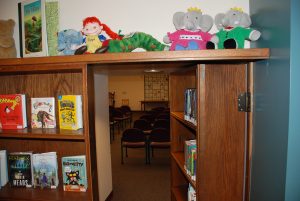 What else?
Anyone can explore this treasure, and while you're there, check out the rest of the library! They have a reading garden, multiple cafes, meeting rooms, and sections dedicated to the arts, social sciences, and travel.
For more information: http://www3.libraryweb.org/article.aspx?id=514035
---
Lush Gardens
This peaceful sanctuary is nestled in the shadows of St Mary's Church and the Excellus BlueCross BlueShield building. The pictures hardly capture how truly beautiful it is!
Don't miss
Check out the "Madonna of the Highways" statue. Surrounded by a variety of flora, this monument is tucked away toward the back of the garden, but is such a great place to sit and gather your thoughts. This isn't the only monument here, though!  A couple yards away you can find one of the fiberglass pieces from Rochester's Horses on Parade in 2001.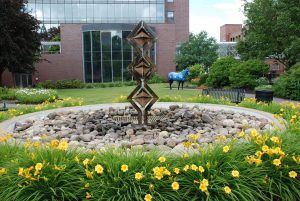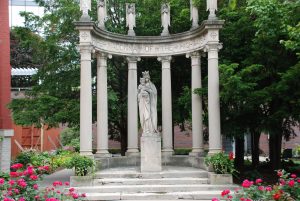 There is just enough shade to feel refreshed in the summer heat, but the sun still shines through the surrounding trees. The garden is filled with a variety of shrubbery.
Flowers vs. Hot Dogs
I would recommend stopping and taking in the scent of flowers, but it might be overpowered by the delicious smell of a beloved hot dog vendor,  just a few feet away on Court Street. So, while you're sitting on the benches, enjoying the beauty of nature in the middle of a busy city, you can also get lunch for a reasonable price.
---
Genesee Riverway Trail
Are you're looking to squeeze in exercise while working or living downtown? Then walk, run or bike down the Genesee Riverway Trial. The pathway runs along the Genesee River and passes so many historic points of Rochester. It's a great way to get a walking tour of the area.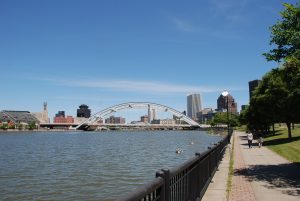 Don't Miss
If you love taking pictures as much as I do, be sure to bring your camera on this walk! You can get a great shot of the Rochester skyline, as well as parks, waterfalls and scenic gorges.
For more information (and to download a trail guide): http://www.cityofrochester.gov/grt/
---
A once unfamiliar city is now starting to feel more like home with each passing day. Although I'm still adjusting to the change in scenery, and Buffalo will always be my favorite place in the world, I think Rochester is one I could love as well.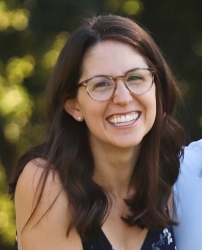 Latest posts by Erika Gruszewski
(see all)