My husband and I recently ditched the kids with a sitter, fled south down Canandaigua Lake and landed in picturesque Naples, N.Y.
Our destination was Grimes Glen, a Finger Lakes gorge that boasts two, 60-foot waterfalls and a 1-mile walk past 200-foot shale bluffs and giant hemlock trees.
WHAT YOU NEED TO KNOW
Tip #1
Bring water shoes! Or rain boots. Or old footwear that you don't mind getting super wet.
The trail is a bit, well, incomplete. We started on even terrain, but soon began climbing through rocks and trees to avoid having to jump into the creek. At several points, the trail is the creek bed, so your feet will get wet.
Tip #2
Of course, we forgot our water shoes, so we walked barefoot through the creek. Be careful of the big, slippery rocks. Center your foot on the clusters of smaller rocks, and you'll be less likely to fall.
I eventually gave up my barefoot expedition and put my old hiking boots back on. Sloshing through the creek was a bit more fun when I didn't have to worry about sliding everywhere!
(Side note: The hubby had previously walked through Grimes Glen when the creek was a bit drier and easily jumped from rock to rock to avoid the water.)
MY FAVORITE PART
At the end of the walk, there's a rope that you can use to help pull yourself up to the top of the falls. I made it about halfway up. Ian, a more adventurous climber, made it to the top.
This slideshow requires JavaScript.
DON'T MISS
Apparently, there's a swimming hole at the bottom of the second falls. I was so focused on climbing up the falls' wall that I completely missed this "don't miss" feature.
RANDOM FACT
Grimes Glen has the oldest fossilized tree in New York state.
THE DETAILS
Location: Grimes Glen Park, 4703 Vine Street, Naples, NY 14512
Hours: Open year round, dawn to dusk
Parking: Limited parking at Grimes Glen, but you can park in the municipal lot on Mill Street. The park is also in walking distance from the village of Naples.
For more:  Go to http://www.co.ontario.ny.us/Facilities/Facility/Details/Grimes-Glen-Park-11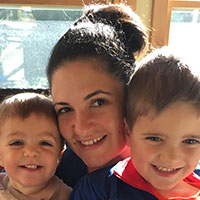 Joy lives in Ontario County with her boys (two sons and her hubby). She runs to stay sane and spends lots of time with her boys splashing in their creek and catching frogs and snails. She is a New England native who promises not to share her sports allegiances, although as an alumna of Syracuse University, she loves (loves) SU sports! Joy is a corporate communications manager at Excellus BlueCross BlueShield.