My toddler began his first apple picking trip by collecting the rotten fruit off the grass, offering them to me in his tiny palm and asking, "this?"
"No, sweetie," I replied, gently knocking the mushy fruit out of his hands. "Try these."
I pointed to the McIntosh hanging on a low branch by his head. He reached up and plucked a small one off the branch, dumping it into my bag. He zig-zagged through the trees, grabbing at the low-hanging fruit within his reach.
This apple farm had all the important features – a fenced-off area with chickens, a baby pig and goats; a store to buy little donuts and apple cider and a bright blue tractor trucking visitors to orchards of McIntosh and Spartan apples.
Before we left for the tractor ride back to the farm store to purchase our bounty, my little one did something he hadn't done before. He grabbed an apple and took a bite and then another. It was the first time he willingly ate an apple.
Loving the sweet, tart or crisp apple
Apple picking isn't just an active outing with lots of walking and hauling.  It may also foster a child's love of the sweet, tart or crisp and always healthy apple.
"This is such a wonderful family bonding experience that is also exercise and healthy eating in disguise," said Patricia Salzer, a registered dietitian and an Excellus BlueCross BlueShield workplace wellness consultant.
Apples are guilt-free because they have just traces of fat and sodium and no cholesterol. The skin of the apple is loaded with disease-fighting antioxidants. Adults and children alike can benefit from eating apples, whether they consume them out of hand, paired with peanut butter or baked in a wholesome fruit crisp with oats and nuts.
Apple farms of Upstate NY
Are you ready to embark with family or friends on one of the most quintessential fall activities?
If so, here's a short list of apple orchards in upstate New York near Binghamton, Rochester, Syracuse and Utica. My co-workers recommended many of these orchards as their go-to fall family fun places: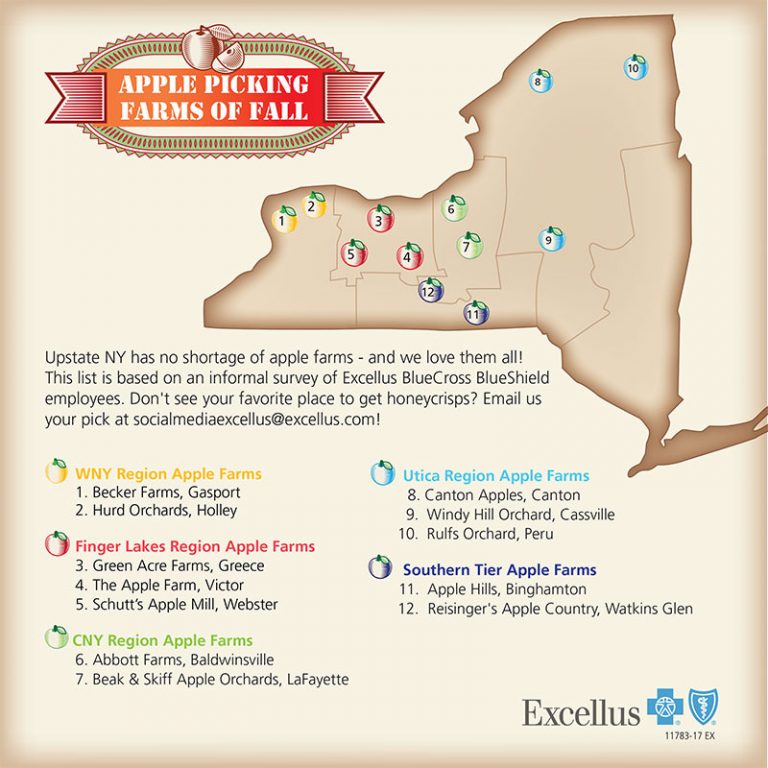 A list of apple picking opportunities in New York or any state can also be found at pickyourown.org
Please follow COVID-19 precautions while enjoying your visit to the apple orchard. For more information, contact your local apple farm. 
Sneak more apples into your meals
You've picked bushels and bushels of apples. Now what?
Salzer offers these tips as ways you can incorporate more apples into your daily diet:
Make a fruit salad with a mixture of your favorite fruits. Or, add apples to your vegetable salads.
Add apples to your cereal, yogurt, pancakes or oatmeal.
Add apples to winter squash soup or grilled turkey and cheese sandwiches. Roast  them alongside chicken or pork.
Make an apple crisp with whole-wheat flour, oats and walnuts.
Keep apples visible in your kitchen so you're more likely to eat them or store them in the front of your refrigerator. Better yet, swap out the cookie jar for a bowl of apples
Some tasty apple and other fall recipes are available on the Excellus BlueCross BlueShield Pinterest page at pinterest.com/excellusbcbs. Love pumpkin? Check out Five Pumpkin Breakfast Recipes for Fall.