Have you ever stopped at a fresh produce stand and found the perfect healthy recipe to feed your very picky kid(s)?  While by chance I did!   Just 25 minutes east of Rochester, off Route 104, the LaMora Farms Garden Gazebo is an enchanting hut that offers a wide variety of locally grown fruits and vegetables at very affordable prices.
Ava LaMora's Tasty Zucchini Pizza Bites
My sons and I discovered the gazebo last year when we were in need of corn.  We stopped by the stand and were greeted by the friendly farm staff and quickly discovered what many locals already knew: This is a great place to get local fresh fruits and hardy vegetables.
This slideshow requires JavaScript.
The produce is grown at LaMora Farms, a 90-acre farm in Ontario, Wayne County.  The Gazebo also offers recipes.
My oldest son, 7, found a recipe card for Ava LaMora's Tasty Zucchini Pizza Bites (see recipe below) and insisted that we buy the biggest zucchini I had ever seen.  (Did I mention the prices are extremely affordable?  My local grocery store offers zucchini at half the size for double the price!)
Not only did we easily make the zucchini pizza that night, but my son has continued to request the meal on a weekly basis.   (Eating every last slice!)  Check out their website for weekly recipes using your favorite fruits and vegetables: http://www.lamorafarms.com/recipes.html .
The perfect family apple
Zucchini is one of our family favorites.  We discovered another favorite last year when we tasted the farm-grown Honeycrisp apples. This is the only type of apple that met both the sweet and tart tastes of my entire family.
In full disclosure, my youngest son and his kindergarten class also enjoyed sampling them, as the LaMora's kindly shared some of their harvest as an opportunity for the children to learn about healthy eating.
Check out the LaMora's decadent apple dessert recipes at: http://www.lamorafarms.com/recipes.html
A family in the community
The owners, Lindsay and Earl LaMora, focus on sharing easy and healthy farm fresh food.  Lindsay is always looking for healthy ways to incorporate fruits and vegetables into snacks and meals.    Daughter Ava, 10, the namesake of the beloved zucchini recipe, and her son Chase, 5, also help mom and dad on the farm.
This year, the first-generation farmers opened the doors to their farm for U-Pick opportunities, starting with strawberries, apples and pumpkins.  (Check out their website, www.LaMoraFarms.com, for the schedule.)    They are also sharing their lives as farmers in their blog, Out on a Limb (http://blog.lamorafarms.com/growwithus/).  And that beloved gazebo?  This year there will be two gazebos to accommodate more fruits and vegetables.
In addition to selling produce at the garden gazebos, the farm can also be found at the CNY Regional Market (Row D) on Saturdays and the Ginegaw Farmers Market on Tuesdays.  In addition, they sell to The Good Food Collective, Upstate Collective and several other food collectives and retail/wholesale outlets.
Best time to visit
While the late spring and summer are great times to visit the garden gazebo, my favorite time to visit is the fall.  The gazebo is always lovingly decorated. But the fall is when the true pumpkin lover, Lindsay, shows off her craft skills. She hand decorates many pumpkins that are available for purchase.
The Details
LaMora Farms Garden Gazebo
Website: http://www.lamorafarms.com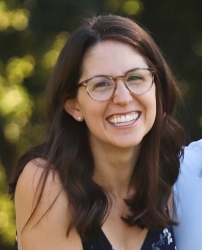 Latest posts by Erika Gruszewski
(see all)