I remember watching in horror as my grandmother ate freshly picked tomatoes as if they were apples, gripping them in the palm of her hand, and devouring them one bite at a time.
See, I've never understood the world's fondness with these bitter, seedy vegetables (call them fruits if you'd like). I'll choke down tomatoes if they come on my salad or in sandwiches. But if no one is looking, you can count on me picking them off, rolling them up in a napkin, and pretending like they were never there in the first place.
The Sauce
I've always made one exception to my usual all-encompassing distaste for the vegetable: spaghetti sauce.
My family used to buy jars of tomato sauce each week to be used on our spaghetti and other assorted pasta dishes. At that time, I thought tomato sauce out of the jar was great. But I realized how wrong I was when I tried my mom's homemade spaghetti sauce for the first time.
My mom first got the idea for tomato sauce about three or four summer ago. Our vegetable garden was particularly fruitful that year, and tomatoes were piling high in the cardboard boxes on the porch. There was no way my parents could eat the entire bounty of tomatoes, which left my mom looking for other options.
Ketchup to the rescue
My mom's journey to making the perfect sauce didn't come without her fair share of flops and failures.
At one point, my mom made a huge batch of spaghetti sauce based on a recipe recommended by a co-worker. Excited about serving the sauce, my mom invited my uncle over for dinner. She thought the sauce was going to turn out wonderfully.
When it came time for dinner, we each chowed down on our steaming bowls of spaghetti and meatballs. We'd only been eating for a few minutes when we began feeling the burning in our mouths. My mom had put way too much cayenne pepper into the recipe. We ended up diluting the sauce with ketchup and putting ice cubes in our mouths to alleviate the burning after each bite.
Finally. Perfection.
But my mom didn't give up. After many hours of research and practice through trial and error, she eventually adapted and perfected her own, specialized spaghetti sauce recipe.
The sauce is cooked in a giant metal vat which sits boiling on the stove for most of the day. During this period, your entire house will be filled with the aroma of spaghetti sauce, and probably for a few days after. I recommend serving spaghetti for dinner the night you cook the sauce. Smelling the sauce all day without eating any might drive your family crazy.
The process ends late at night when the sauce is poured carefully into 50+ different Tupperware containers that are then sealed, dated and carried to our box freezer in the basement. On days when my mom plans on making spaghetti, she'll simply take a container of sauce out of the freezer and move it to the refrigerator to thaw while she's at work.
My Mom's Spaghetti Sauce Recipe
You really can't go wrong making spaghetti sauce. It's efficient, delicious and cost-effective. If you have way too many tomatoes piling up this summer, or if you want a fun summer project, spaghetti sauce is the way to go. You don't need to use homegrown tomatoes, either. In the past, we've supplemented our homegrown tomatoes with store bought ones, and we're unable to taste the difference.
Below is my mother's homemade spaghetti sauce recipe. While to us it's the perfect sauce, I urge you to experiment with it just like my mom did in order to make it your perfect sauce!
Heat oil in 4-quart saucepan over medium heat until hot. Add onions and garlic. Cook until onions are tender.

Add all other ingredients, mix well. Bring to a boil, stirring occasionally. Reduce heat and let simmer for 1 hour, stirring occasionally (simmer time varies based on number of tomatoes. Could take as many as 4-5 hours to get correct consistency).

Ladle mixture into clean jars and cover with tight-fitting lids. Sauce can be refrigerated for up to 1 week or frozen for 3 months to 1 year.
*If you have extra green or red peppers on hand, you may add 1-2 for added flavor
*You may double or triple the recipe depending on the number of ripe tomatoes in your garden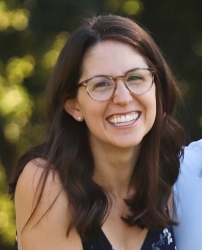 Latest posts by Erika Gruszewski
(see all)