My boys know the drill. Every Saturday, on our way to the grocery store, we'd first stop at Chase Farms, a small farm in Monroe County, to fill up on locally-grown fruits and veggies.
As I made a beeline for the freshly picked peaches, my boys would rummage through a bin filled with discarded corn husks. They'd grab an armful of husks to feed their favorite friends on the farm. Three goats, eager to amuse young children, would munch on the husks they got from my boys' fingers.
During our last visit to the Fairport farm, however, my boys had lots more to do while I shopped for produce.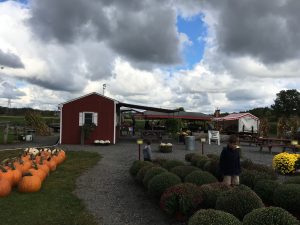 Pumpkin picking time at Chase Farms!
Rows of mums and orange and white pumpkins lined a side of the farm. My boys ran through the rows, marveling at the pumpkins, while I bought some garlic, sweet corn, apples, peppers, and cucumbers.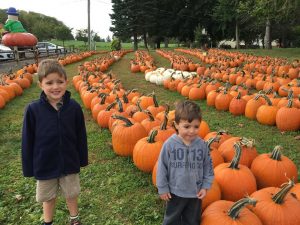 My littlest boy marveled at the tractor that was waiting to bring guests to the pumpkin patch. Crunched for time, we did not jump on the tractor's wagon for a ride to get pumpkins. (But I did have to pinky swear that we'd do so next time!)
Chase Farms' pumpkin wagon rides run from 10:30 a.m. to 5 p.m. on Saturdays and Sundays.
The cost is $2 a person if you don't want a pumpkin and $9 if you do.
Fall fun: Corn mazing
We did take the time to wander through the farm's (free!) corn maze. My oldest son took charge and led us through various dead ends to eventually emerge from the maze. He ran over to admire the big hay bale turned ghost, while my youngest (who is afraid of ghosts, by the way) ran in the opposite direction to pose for a pic next to a giant cut-out pumpkin.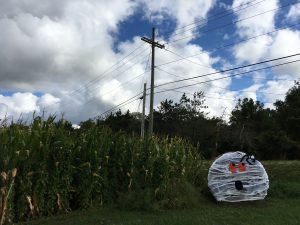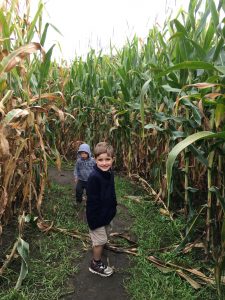 Goats!
I love these goats. I'm no longer met with groans by my boys when I announce our trek to the grocery store. Why? It's because they know they get to stop at Chase Farms and feed the goats!
The goats seem like a cross between a dog and a horse. They're friendly like a dog, but BIG … almost like a small horse. And they love their corn husks.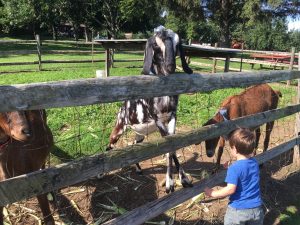 What else?
Oh, and there's the fruits and vegetables. Throughout the summer, I gorged on their peaches, buying pints at a time. I was surprised during my last visit to see that they also grew apples! I bought a few and have been munching on them all week.
There's also a shortcake and sundae bar if you're looking for a treat while at the farm.
Like raspberries?
I really (really) don't like raspberries. But if you do, you can pick this fruit at the farm. The farm has 10 acres of raspberries, both summer and fall varieties. You can pick them now. Call (315) 986-3691 for more details.
The details
Chase Farms
459 Pannell Road|
Fairport, NY 14450|
(315) 986-3691
It's located in Monroe County, but it's not too far from the borders of Wayne and Ontario counties.
www.chasefarmsmarket.com