Is meal delivery in a box for you? Maybe. These semi-prepared meals definitely get you out of a "cooking rut" and encourage you to change up your dinner offerings. Here's my two cents on some of the more popular brands, plus feedback from my colleagues who've also used them and other services. (This review is not an endorsement of any brand.)
I've tried three — Martha & Marley Spoon, Blue Apron and Sun Basket. My co-workers have also tried Home Chef and the Rochester-based service, Kitchen Verde.
Here's my review of Marley Spoon.
Martha & Marley Spoon
I was tired of the "same old same old" meals, tried and true recipes that didn't require a lot of thinking or prep time. Salads, roasted vegetables and grilled meats in the summer; crockpot meals, soups, and stews in the winter. When I received Martha & Marley Spoon as a gift, I was excited to mix it up in the kitchen. I could whip up something New! Exciting! Different!
Plus, there would be no waste such as the huge bottle of black sesame seeds I bought for a  recipe and haven't made since.
The entrees were tasty. A change from my usual ho-hum suppers. My favorite was "Poached Cod in Tomato Broth."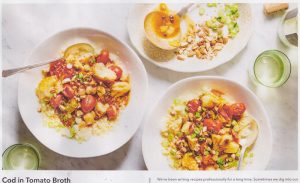 You can re-create some of the meals on your own, but some recipes require custom spice blends that may be difficult to replicate.
30 Minutes, Really?
I found the "30 minutes" of suggested prep to table time idealistic, even unrealistic. Maybe I'm just slow. There was a lot of slicing and dicing—almost every recipe called for minced garlic, chopped onion or other produce preparation.
Still, I was pleased. The meals were tasty. I continued the membership a few more weeks, then gave up. Between working full-time and caregiving duties, I didn't have the energy to prepare all the meals. I still had to grocery shop for staples and ingredients for other dinners, plus breakfast and lunch items.
Meal Plans For Martha & Marley Spoon
Martha & Marley Spoon offers meal plans for couples or families (three to four people). You can choose two to four meals a week. In addition, you can opt for your meals to be vegetarian or gluten-free. Recent menus included Smoky-Spice Rubbed Steak, Inside-Out Chicken & Stuffing, Broccoli and Black Olive Pizza, Tomato, Rice and Sausage Soup, Roasted Butternut Squash Pasta, Lentils and Smoky Eggplant, Broiled Shrimp and Zucchini, and Tortelloni Minestrone.
Check the website for plan costs. When comparing plans, be sure to check if there is a delivery cost, if the packaging is recyclable, if you can skip meals, and how far in advance you can cancel.
For special promotions, check Martha & Marley Spoon social media:
Final Word
I've since tried other meal delivery services, including Blue Apron and Sun Basket. They each had their benefits and drawbacks.
But I'm back to my own devices for dinner, although experimenting with the meal delivery service has definitely got me thinking outside the box. The food prep takes about the same amount of time whether I buy it or it arrives at my door.  In addition, most of the services publish some of their recipes online.
If you're looking to spice up your meals, give a service (or two or three) a try. Since most don't require a contract, you can opt out any time. And, most have an introductory discount that's appealing!
To learn more about the other meal delivery services, read our reviews on: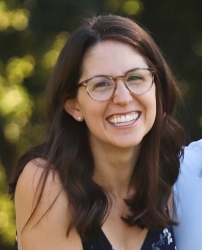 Latest posts by Erika Gruszewski
(see all)