I ate healthy. But I knew I could do better.
I ate a lot of whole grains, fruits, vegetables, lean meats and reduced-fat dairy. Could I, however, reach the next level of healthy eating? Could I ditch processed foods, most animal products and oil?
Challenge accepted. I tried a whole-foods, plant-based diet. The diet is linked to health benefits, including a reduced risk of heart disease and diabetes.
What is a plant-based diet?
A whole-foods, plant-based diet focuses on choosing mostly whole, minimally processed foods that come from plant-based sources. This includes fruits, vegetables, nuts, seeds, whole grains, beans and legumes. It also excludes added sugars, white flour, and processed oils. Many view this way of eating as a lifestyle, rather than a diet.
When I tried a plant-based diet, I didn't radically alter what I ate. Rather, I just made some simple tweaks.
Make it easy
First, I stocked up on beans, vegetable broth, unsweetened almond coconut milk, sweet potatoes and whole grains such as quinoa. Keeping a supply of plant-based options at home helped make healthy choices easy choices.
Mental Prep
Next, I didn't focus on what I couldn't eat. Instead, I focused on the new delicious meals I got to try. Looking for some inspiration? Check out this recipe for grilled tofu skewers with a pineapple teriyaki sauce.
Ease into change
Making changes to what you eat can be a daunting task. So each week, I decided to cut back on one meat-based feast. I also gradually introduced replacements, like drinking almond milk instead of cow's milk.
Keep Grandma's Recipe
Eating a plant-based diet doesn't mean saying goodbye to your comfort foods. Instead, I made small tweaks to favorite family recipes by adding veggies, beans or different grains.
Self-help
Finally, I checked out online resources for help and ideas. Check out USDA.gov for a list of plant-based resources.
This slideshow requires JavaScript.
As a bonus, I fell in love with this recipe. Try it. I hope you like it, too!
Combined the bulgur and boiling water in a large bowl. Cover and let stand for 30 minutes. Stir in the figs and remaining ingredients. Cover salad and chill thoroughly. Serving size: 1 cup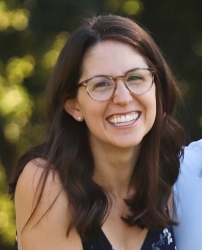 Latest posts by Erika Gruszewski
(see all)