When the pandemic forced Karen Goossen to close the doors of her business this spring, she knew her income was at risk. She didn't realize the economic fallout would also put her health at risk.
Goossen, of Monroe County, had been following her doctor's advice to add more fresh fruits and vegetables to her diet to help manage her heart health. However, with her income limited, those healthier choices became luxuries.
"I had to find a way to stretch my dollars," she said, "so sometimes I had to do without fresh fruits and vegetables."
Food Insecurity
The ability to earn a paycheck and feed a family are at risk for many people because of the pandemic and this is leading to a growing number of people experiencing food insecurity.
A recent study by Feeding America, the nation's largest domestic hunger-relief organization, showed food insecurity in the 10-county area including Monroe County is expected to rise 45 percent this year due to the pandemic.
Loss of income, poverty, a person's environment, education levels, and discrimination can all contribute to health risks. Known as social determinants of health, these factors can have significant impact on a person's quality of life and well-being.
"I had been working hard, trying to eat healthier to improve my health and when I had to close the doors of my business, I had to limit the types of food I could buy," she said. "I never thought I would be in this position at this point in my life. It's an unusual and challenging time."
Healthier Diet = Health Care Goals
This summer, Goossen's nurse care manager contacted her about a new pilot program designed to help her and others who have health care needs and are at risk of food insecurity. The "Fresh Account at Curbside Market" program provides monthly vouchers to purchase fresh fruits and vegetables.
The program was developed in partnership with her health insurer, Excellus BlueCross BlueShield and local food bank, Foodlink. The Curbside Market is Foodlink's mobile farmers market, which provides affordable and convenient access to healthy foods in underserved communities.
"You need a healthy diet to improve and maintain good health," said Dr. Brian Steele, vice president medical affairs, clinical services at Excellus BlueCross BlueShield. This seemed to be an area where we could intervene."
"The Fresh Account program helps people access healthier foods and celebrates making the healthy choice the easy choice," said Julia Tedesco, President & CEO of Foodlink.
Farmers Market on Wheels
Participation in the program helps Goossen extend her food budget and meet her health care goals. "My first visit to Curbside Market I purchased peaches, nectarines, corn, celery, cherry tomatoes, grapes, onions, white and sweet potatoes – they had more than I anticipated!"
This slideshow requires JavaScript.
The wide variety gave her the opportunity to try some new foods. "I love to cook, so I'm finding new recipes and making creative meals. It's been helpful to me. I'm learning more about the nutritional value of fruits and vegetables I normally wouldn't purchase."
The best part?
"I've already lost 20 pounds!" She gained 50 pounds during the pandemic and credits her healthier diet for her weight loss. "Now I'm grabbing more fresh fruits and vegetables for a snack instead of something that will put weight back on and negatively affect my health."
Staying Positive
Goossen says she's concentrating on staying positive.
"In the early '90's, when my children were little, I benefitted from the WIC program and food pantries. I know what it's like to have family go without," she said. "When I was able, I gave back, volunteering to help others and providing Thanksgiving dinners for those in need – it's nice to give back."
Although she didn't expect to be on the receiving end again, she's grateful to have this resource. "It's a great idea. There's a need and people are benefitting and appreciative."
She calls the program "a blessing. The timing was perfect. I really needed it. And when I'm able, I'll give back again."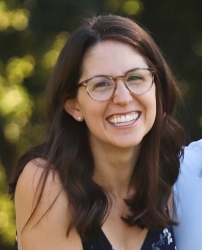 Latest posts by Erika Gruszewski
(see all)