Holidays and food go hand in hand, or more accurately, hand to mouth. This time of year can present a challenge to even the most disciplined among us to stick to a healthy diet and enjoy the treats of the season in moderation.
On average, Americans gain one to two pounds during the holidays, and research shows these pounds tend to stick, accumulating year after year. This year, our new normal of COVID-19, shutdowns, and social distancing, add stress eating to the mix to make keeping to a healthy diet an even greater challenge. Here are some tips to make it through the holiday season with your waistline intact, and to jump start resolutions to eat better in the new year.
Tips for the holiday food fest
Focus on portion size and be aware of what you are eating. Stick to healthy eating habits such as filling half your plate with fruits and veggies and making half of the grains you consume whole grains.
Keep to a consistent sleep schedule, and avoid large meals, caffeine and alcohol before bed.
Make it a habit to go for an after-dinner walk, whatever the weather. It'll get you away from the table and the temptation to keep picking at the food.
With social distancing, there'll likely be fewer mouths to feed, so cook what you need, and nothing more. Sending doggy bags home with guests is not an option this year.
And, when it comes to holiday gift giving, Salzer suggests subscriptions to healthy eating or healthy cooking magazines. They serve as a fun monthly reminder to stay focused on healthy eating and portion control. It's a gift that'll be enjoyed throughout the year.
Find information on nutrition, healthy cooking, and more, online at the Health & Wellness page at ExcellusBCBS.com.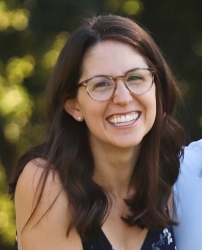 Latest posts by Erika Gruszewski
(see all)