Holiday decorating may look a little different for you this year. It has taken an interesting turn – not for the better or the worse. It's just, well, different.
Read some of these stories our Excellus BlueCross BlueShield team members have shared, and you'll see what we mean.
A Tale of a $99 Branch
In my home this year, the Christmas trees, lights outside, and house filled with gnomes are all traditional.
What's not? The enormous twig on a rope my husband decided to "gift" me after I attempted to convince him I was buying the notorious "Twig on a String" for $99 at Crate and Barrel that went viral on social media.
The best part of this décor is the fact that the original story is that I bought six of these twigs on a string and had my very calm, cool, collected husband so frazzled he believed me… and I got it on video! The video has made its way around to friends and family for their viewing enjoyment.
Well, the joke was on me when I was welcomed earlier this month with a surprise of my own. The very same twig on a rope – about 10 times the original size – was there hanging from my garage – he even included some festive ribbon!
A Tree of Faces
"Our tree is a collection of memories: ornaments the kids have made, we bought on vacation or from memorable moments in our lives," said Crystal Gallagher, of Monroe County.
Every year when her family puts up their tree, they talk about all the different ornaments and what they mean.  Years ago, her now 17-year-old Dillon's ornament he had made with his picture on it disappeared.  "We thought he had thrown it away and we were mad," she said. "This year we moved, and I found it at the bottom of our coat closet!"
So, to change things up for 2020, Dillon's 16-year-old brother, Ian, decided to make his photo ornament and Dillon's the tree topper.
"We thought it was so funny we left it and packed our usual bow back up for next year!" Crystal said.
Decorating – or Not Decorating – Your Way
In 2016, Roxy Greninger from Monroe County wasn't feeling well and the thought of putting up the Christmas tree was crippling. Instead of guilting herself, she got creative and decided she would cut herself some slack that year.
"I told my family that Santa was going to pour the presents down the chimney. My son, Riley, was a teenager so he didn't mind, and my husband was supportive, though he enjoys the tree but wasn't prepared to put it up himself," she said. "We enjoyed our holiday in a fun new way and it got me through a rough patch."
This year, as Roxy felt the depression creeping in, she turned the chore of putting up the Christmas tree into something she enjoyed doing – designing. She had a vision in mind, so she ran to the craft store and got to work – even decorating the banister!
"I hung the stockings but left the other Christmas décor in storage for 2020," she said reminding us all that "Tree or not, both Christmases' were and will be special. It's about doing what's best for you."
Making Trees Out Of… Trees
Peter Kates, of Erie County, made a very unconventional tree this year. He made a Christmas tree out of dowels and a wooden closet rod. As he said, he made a tree out of a tree!
Peter's daughter has many allergies, including to pine trees. And recently, she developed a chemical sensitivity to many man-made materials, so their artificial tree is now outside the kitchen on the back deck…fully strung with lights, and rusting. Peter's homemade tree will be inside and loaded with all their favorite ornaments.
What does your 2020 holiday decorating look like? Share your decorating stories in the comments section below.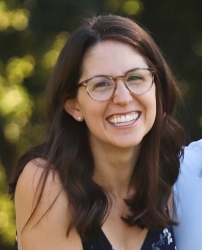 Latest posts by Erika Gruszewski
(see all)