Takeout food.
Greasy, delicious and convenient. Americans love getting takeout, whether picking it up or having it delivered. And it's a $30+ billion industry. We all have our go-to options —pizza, subs, burritos and Asian food are among the traditional favorites. Is your mouth watering yet?
We all know takeout isn't the healthiest food. Enjoying it every now and then is okay, but eating it too often could hurt your wallet and your waistline.
Let's transform Takeout
Instead of getting takeout, try healthier dishes that you can make at home . It's a change that can improve your health and may save you money. And the best part? You can satisfy still your takeout cravings while maintaining a healthy diet.
I spoke with Pat Salzer, Registered Dietitian and Workplace Wellness Support Coordinator with Excellus BlueCross BlueShield, about tips and tricks to make it happen.
Be Prepared
Why do we love takeout food so much? It's easy. Instead of having to worry about making food, it's already done for you. Want to make home-cooked meals easier? Get prepped.
The first step is meal planning. Salzer suggests planning meals for the week during the weekend and stocking your kitchen with the right ingredients. Meal planning helps  you make sure you have what you need ahead of time.
When it comes time to cook, you will already have all the ingredients you need to get started. I even prefer to cook two or three meals at once to save time. That's called batch cooking.
Looking for some great recipes to get started? Here are some of our personal favorites:
Change the Norm
For many people, getting takeout at the end of the day is simply a habit. People become so used to ordering food that it becomes part of their routine.
Salzer said that making cooking at home the norm will make it much easier to avoid getting takeout. This goes back to the idea of planning your meals ahead and having the winning ingredients ready to go. Start small by planning to eat home-cooked meals most days of the week.
Get the Family on Board
Change is much easier with the support of those around you. Instead of going at it alone, Salzer suggests getting other members of your household to eat home-cooked meals with you. Ask others to help with planning meals for the week,and keep each other accountable with sticking to the plan to eat what you cook. Whether you're cooking for yourself, your significant other or the whole family, making meals at home that everyone will enjoy is a fun way to start a new healthy habit.
Easy swaps and additions for your favorite takeout food
Want to cook more at home but not ready to give up your beloved pizza or subs? Some simple swaps and additions can help you enjoy the food you love at home, in a healthier way.
If you're a lover of subs and sandwiches, try making a sandwich at home on whole grain bread. If you can't imagine a Friday night without pizza, try a homemade pizza with a side salad to help fill you up with veggies. You can also try adding greens or fruit as a side to make-your-own tacos or burritos. Salzer recommends that fruits and vegetables make up half of our plate at any meal.
For more tips on finding healthy meal alternatives, check out our guide on how to avoid drive thrus, which features much of the same greasy fare as takeout.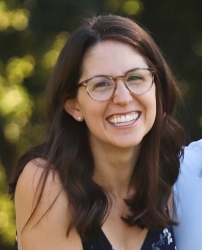 Latest posts by Erika Gruszewski
(see all)