Is your mouth watering yet? Mine is basically Niagara Falls at this point…
Adapted from http://www.skinnytaste.com/cauliflower-fried-rice/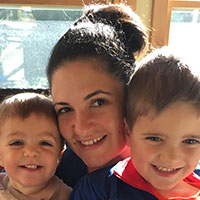 Joy lives in Ontario County with her boys (two sons and her hubby). She runs to stay sane and spends lots of time with her boys splashing in their creek and catching frogs and snails. She is a New England native who promises not to share her sports allegiances, although as an alumna of Syracuse University, she loves (loves) SU sports! Joy is a corporate communications manager at Excellus BlueCross BlueShield.
| | |
| --- | --- |
| | |
Fire up the grill and stretch your forearms. You'll need a cheese grater for this next part...

Grab the cauliflower head and grind that sucker down to rice size pellets. Be careful not to make cauli-sauce.

Once the grill is hot enough, smooth sesame oil on the surface (traditional grillers will need to use a wok). Pour the rice on the grill top/wok.

Sprinkle soy sauce on the cauliflower rice, let it brown up on each side.
Once the veggies are sliced and diced, place them on the remaining sesame oil. Sizzle-sizzle.

Again, sprinkle on some soy sauce. For best results do it dramatic with slow-motion droplets.
Come on. It's steak! Bonus, this is the leanest cut of meat available.

Slap on one side. 8-9 minutes.

Don't be that guy who flips too often. You want to sear the flavor in the meat.
Cube the steaks hibachi-style. Scoop veggies, rice and steak on a plate. And thank the heavens for the glorious meal you are about to inhale.