When I was in high school, there were several years where my mom devoted herself to taking care of my grandparents. We lived in Syracuse, but my grandparents lived in Watertown, so my mom would regularly travel the hour or so north up I-81 to be with them. Back then, and for years after, she would often say how glad she was to be able to be there for her parents during that time. Despite the gratification caregiving brought her, I know it was hard for her to balance helping her parents while taking care of me and my sisters and working a full-time job.
Caregiving can be a rewarding experience, but it can also be very stressful. You may be experiencing caregiver stress if you're feeling overwhelmed, alone, or are often worried. Whether you're providing hands-on care or helping from afar, here are some tips from fellow caregivers to help reduce caregiver stress.
Take a break
Recognize that providing care for someone is an important job. Like all jobs, it's important to seek a well-deserved break when you can. Don't be shy about asking others for help. Jan Caster, a caregiver from Onondaga County, says that when someone offers to help, it's important to "be specific about what the individual can do for you. Suggest choices like respite care, preparing meals or providing transportation."
If you're a long-distance caregiver, offer what you can to help the caregiver who is local. You can help research community resources or even give a small gift card to help give the other caregiver a break. That kind of help can be "a better gift than any 'thing'," says Jan.
There are also more formal respite services available to help give you a break and reduce caregiver stress. These services include:
In-home care: regular or periodic in-home care can provide someone to help with personal care, providing medical services and respite care.
Programs for All-Inclusive Care for the Elderly (PACE): these programs provide both medical and social services to individuals who live in the community.
Adult Day Care Centers: provide your loved one with some socialization while giving you an opportunity to work, run errands or take a break.
Nursing homes: many communities have nursing homes or other residential care facilities that can provide short-term overnight care if you need to go out of town.
Check with your local Office for the Aging and NY Connects to learn more about these and other respite services available in your community.
Communication is Key
Having open and honest conversations with your loved one can help to take the burden off of you, the caregiver. It's helpful to understand the wishes of your loved one and make sure everyone is on the same page. Jim Redmond, a caregiver from Monroe County, says that when you're a caregiver "you may need to have difficult conversations with your loved one…but you can still maintain a level of respect and help them preserve as much of their independence as possible. Part of having a difficult conversation is helping your loved one determine realistic goals based on their condition and the way it is changing." Resources like AARP offer tips for having those difficult conversations.
It's also important to establish open communication with other family members. "We have an on-going group text with my siblings and our spouses," says Jim, "It helps everyone get the same information at the same time". It's one way to include everyone, even if they live out of town."
Do Something You Enjoy
When you're caring for someone else, you often prioritize your loved one's health over your own. It's important to remember to take care of your own health too to help you provide your loved one with the best care.
While it can be hard to do, Jan says it's also helpful to "do something for yourself that you'll look forward to." You could watch a movie or take an exercise class. Jan enjoys a yoga class as one way to take time for her health. Finding time to rest or nap is important too, as many caregivers struggle with sleep. "Sleep is not overrated!" adds Jan.
Seek Support
Feeling isolated can be a challenge for caregivers. When you're feeling alone, talking with others can help you to cope, whether it's with a counselor or with a few good friends. My aunts were a main source of support for mom. They were helping to take care of my grandparents too. I remember the long phone calls my mom would have with them late into the night. Like with many of life's challenges, it helps so much just to know you're not alone.
Support groups are another great resource for caregivers. They can provide a safe space for venting frustration or sharing struggles. To find an in-person or online support group, contact your local Office for the Aging.
Keep Things in Perspective
It's easy to become overwhelmed when caregiving, whether it's with your loved one or with the situation in general. Jim says it helps to "maintain perspective" and remember that "everyone will have good days and bad days." Many fellow caregivers say that when providing care for a loved one, it's helpful to focus on what's really important and not sweat the small stuff.
When all else fails, take deeps breaths and give yourself credit for doing one of the toughest jobs that there is. Jan adds, "Trust yourself when it comes to your loved one's care – you know them better than anyone."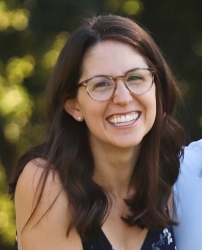 Latest posts by Erika Gruszewski
(see all)