This Veterans Day – and every day – it's important to reflect upon and celebrate the true meaning of this national holiday by honoring those who have served our country. Excellus BlueCross Blue Shield is one of many companies in our community that are honored to have veterans in their workforce who have played important roles in our country.
This year, as parades and in-person celebrations are paused, look for new ways to celebrate their courage and sacrifice. Talk to a veteran in your life and have a conversation with them to learn more about their lives, hear their moving and compelling stories, and understand their experiences while serving our nation.
As Chad Tooke in our Utica office said, "Ask a veteran about their experiences. Talking may enlighten you as to why they are the way they are, and you may appreciate them a little more. They may have seen things and experienced things that they will not talk about, but have affected them greatly… Most veterans are humble and don't want to be thanked and don't need the accolades."
We would like to share some of the stories of the brave men and women who wore our country's uniform and come to work for us each day continuing to serve our communities.
Bob Berie, Director, Claims Cost Containment
Bob joined the Air Force in May of 1981 and retired in 2018.
This slideshow requires JavaScript.
"I spent 12 years on active duty. While on active duty, I was assigned to bases in Florida and Texas.  Most of my active time was spent in logistics and as an instructor.  Then, in 2009, I went back into the Air Force Reserve in Medical Administration at Westover Air Reserve Base in Chicopee, MA. In 2012, I transferred to the 174th Attack Wing in Syracuse and joined the 174th Medical Group. I retired in 2018 as the First Sergeant of the Medical Group after 23 years of service. "
Chad Tooke, Provider Network and Strategy Manager
Chad joined the Army on in 1992 earning his badge from Air Assault school. He retired in June 2015.
This slideshow requires JavaScript.
"I started at Excellus BCBS Sept. 23, 2002 and, on my first day, I let Excellus BCBS know that I was deploying for Afghanistan on Sept. 26, 2002 and it did not feel proper to accept the position I was hired for. I was told to fill out the orientation paperwork and to take the remainder of the week off… My job would be waiting when I returned. I think that is a great testament to our organization and how they support their employees.
In Afghanistan, I led a Civil Affairs Team Alpha (CAT-A). We conducted many missions and coordinated the building of wells, schools, and medical facilities to assist the local populace. We also provided food and clothing when we could. In November of 2007, I was mobilized to Fort Dix, NJ for a one-year tour that turned into nearly five years. I was sent there to train soldiers going overseas to Iraq, Afghanistan, and Africa."
Lisa Sexton, Human Capital Management Talent Acquisition Consultant
Lisa joined the Air Force in 1993 and was honorably discharged in April of 2001 as a Staff Sergeant.
This slideshow requires JavaScript.
"I was an Air Force brat – my father is a graduate of West Point and is a retired Air Force Major, and my sister is also retired from the Air Force. When I joined in 1993 at 21-years-old, my career field was Hospital Administration. I was stationed at Eglin Air Force Base, Fort Walton Beach, FL for five years where I worked in a hospital and then attended Airmen Leadership School and graduated top of my class and was awarded the John Levitow Award (highest honor).
I have been trained in Medical Readiness (able to work in a battle field hospital and provide first aide to injured soldiers), chemical warfare, etc.  It wasn't all work and no play, though! I played volleyball for the base team and traveled all over the country to play against other bases.
Then I was stationed at Kirtland Air Force Base, Albuquerque, NM where I worked at the Medical Clinic for the remainder of my Air Force career where I coordinated Life Flights to move our injured soldiers to different Major Hospitals across the Country and World.
I absolutely loved my time in the Air Force and I believe it helped shape who I am today.  I have made forever friendships and connections!"
Please share your own stories in the comments below.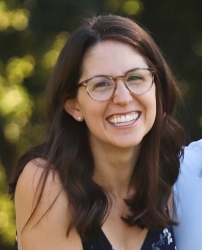 Latest posts by Erika Gruszewski
(see all)