As with most holidays, there are favorite (and unusual) stories – and plenty of bloopers. Here are some of our favorites that we hope will make you chuckle or learn from our many mistakes!  Share your favorite Easter story – or bloopers – in the comments below.
The squirrels ate my Easter egg
One big lesson that Joy Auch of Ontario County learned early on as a young mother is to avoid hiding eggs in the yard the night before Easter.
"I was downstairs when I heard my hubby and 4-year-old son yelling from the upstairs window. Crazy squirrels were running away with the eggs. They only left a few of the 20 eggs we hid," said Joy.
Her son took it well, rationalizing that there were still a few eggs left for him to enjoy.
"We found candy wrappers and pieces of plastic eggs all over the yard for weeks to come," Joy added.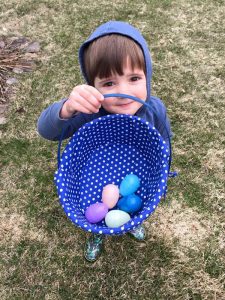 ---
You light up my life
A self-professed Pinterest fanatic, Kelly Engert used an idea she found on the social media site last year. She put small tea lights, along with small trinkets, in plastic eggs and hid them outside. When dusk fell, her kids had fun finding the brightly shining eggs. Kelly, who lives in Wayne County, said that her family also uses Kool Aid and vinegar to dye their eggs. It makes for a more natural dye and is something the kids can make on their own instead of buying at the store.
"The colors are pretty cool and it even smells good!" she said.
---
Better than candy?
Although most of Brittany Brownyard's family members aren't kids anymore, they still have that Easter egg hunt spirit.
"Once, my aunt hid eggs with numbers in them. After everyone found an egg, she told us the significance of the numbers," said Brittany of Monroe County.
"Each one represented the dollar amount of a lottery ticket. So if you found an egg with a 5 in it, you received a $5 lottery ticket."
So you can imagine the mad dash when Brittany's' aunt announced there was one egg missing.
"Everyone went nuts looking for it," said Brittany. "The prospect of becoming the next millionaire made us all super competitive. Good thing there weren't any small kids around, because they would have been shoved aside!"
When the last egg was finally found, it contained the number 1. And, no, nobody became the millionaire next door.
---
A true "hunt" for an egg
Elmer Smith of Monroe County offers this unique twist to the traditional Easter egg hunt: create clever clues to reveal the egg's location.
On Easter morning, his son would pull pieces of paper from a basket. The papers contained clues to help his son find his Easter eggs. One favorite clue: "Go from Westminster to St. Michael's, Lord Whittington."
The clue wasn't meant to confuse. Instead, it represented the three chimes on their triple chime mantel clock. (The egg was by the clock.)
His son had a lot of fun figuring out the somewhat quirky clues, which also helped to teach him about ways to think outside of the box.
---
The burnt Easter basket
As a young girl, Alicia Sherk of Erie County launched into her annual sisterly competition to find their baskets on Easter morning.
Her older sister found hers first. "Ha-ha! Born first, get the basket first!" she cried.
Alice's younger sister found hers shortly after. "Choc-iittt!" said the little one, who was still learning to talk, but understood she won something fantastic.
Frantic and terrified, Alicia panicked. Did the Easter bunny forget a third basket? Her mom, meanwhile, began preheating the oven for their traditional cinnamon roll and chocolate Easter Sunday breakfast.
In minutes, the scent of chocolate wafted to their noses.  Alicia's heart dropped. She ran into the kitchen, just in time to see her mom opening the oven door. There was Alicia's basket, burnt on the edges and dripping chocolate onto the oven floor.
She cried. However, her sisters came to the rescue.
Each gave her pieces of their precious chocolate. Suddenly, Alicia was grateful for not being forgotten by the Easter Bunny. She was even more grateful to sit with her sisters and enjoy some chocolate with the cinnamon rolls.
(Yes, the Easter bunny that year did put the basket in the oven and then forgot about it!)
---
In your Easter bonnet with green grass growing on it
The family Easter bonnet parade started in Linnea Coyne's family 25 years ago when her daughters were toddlers. Over the years, the bonnets have evolved from the simple to the sublime. The Dollar Store is the best place for supplies and you can use what you already have at home, such as tissue paper, old buttons, yarn, construction paper and old Easter decorations, said Linnea. A glue gun is a must.
"We've exhausted the peep populations, Easter basket grass and jelly beans with many of our creations," said Linnea of Onondaga County.
Hat #1: The Daisy Hat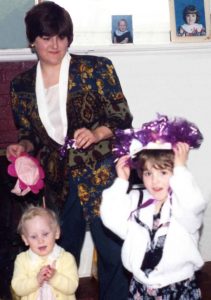 The first hat was a paper plate that was in the shape of a daisy for daughter Kelly. Coyne made two slits in the center of a paper plate and then threaded a piece of pink material through the cuts so she could tie it under Kelly's chin.
"It was adorable," Linnea recalled.
Hat #2: The Lawn Hat
Dylan, her son, started his hat a month before Easter by making a paste with grass seeds, spreading it on an old baseball hat and watering it religiously for four weeks. He topped the "lawn" with gummy worms and Easter eggs glued to golf tees.
Hat #3: The Picnic Hat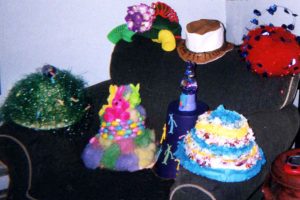 Linnea's brother Marc completed an ensemble of a bonnet crowned with plastic dinnerware and a plastic tablecloth serving as his cloak.
"It's become part of his spring picnic collection," said Linnea.
"My kids love to see who comes up with most creative bonnet," she said. "It was and is still a great way for them to use their imaginations."
More relevant, however, is that the Easter bonnet parade always brings the family together, including newcomers such as Linnea's new son-in-law, and makes for memorable holiday memories.
The kicker, however, is that Linnea's mother "always manages to choose one of the creations to wear to church on Easter!"
---
Special eggs for a special bunny
Every year for Easter, Debbie Breinlinger of Erie County and her granddaughters create elaborately decorated eggs to be displayed next to a very special stuffed animal.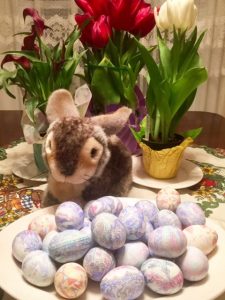 Debbie bought the stuffed bunny at the Steiff Museum in southern Germany. The museum is the birthplace of the teddy bear. One year, around Easter, Debbie was in Germany accompanying her husband when he met his brother for the first time. (The brothers had been separated early in life.) During the trip, she bought the bunny.
Want to make eggs like Debbie's? Here's the recipe:
Wrap an egg in silk. Debbie uses 100 percent silk ties and scarfs she's collected throughout the year.
Place the silk-wrapped raw egg in a piece of white sheet, pillowcase or old tablecloth. Secure tightly with a twist-tie.
Place the egg(s) in an enamel or glass pot.
Fill pot with water to cover eggs completely.
Add three tablespoons of white vinegar and cook for 25 minutes.
Unwrap and enjoy!
"Watching the looks on my granddaughters' faces when they see the egg designs for the first time every year is priceless," she said.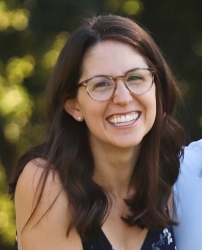 Latest posts by Erika Gruszewski
(see all)