You want to pack a lunch that you and your kids will actually eat. It might seem tough. But with a little help, you can become a wiz at creating packable meals that are healthy, yet tasty.
The Basics
Try planning ahead to ease a lot of the stress. When making dinner, remember that leftovers can make a great lunch the next day and the freezer can be your friend.
Make sure you have the right supplies. Your containers should be insulated and have enough space for an ice pack or a thermos container. Packing reusable napkins or silverware is also environmentally and financially friendly.
What's Sweet
Fruit is a quick and easy snack that can be eaten individually or paired with another food.
Create homemade trail mix to make sure family members can enjoy their favorite ingredients. Mix dried fruit with nuts, raisins, pretzels, and even chocolate chips.
What's Crunchy
Cut up vegetables — such as carrots, cucumbers, or celery — to make a crunchy snack that people of any age can enjoy.
Try peanut butter (or almond butter) with rice cakes, bananas, apples or pretzels. You could make the childhood favorite, "ants on a log," by pairing celery with peanut butter and raisins.
Try adding vegetables to the top of your pizzas and consider using pita bread as your pizza "dough."
Not your usual sandwich
Mix up your sandwich bread by using whole wheat bread, tortilla wraps, or pita bread. Since sandwich meats contain a lot of sodium, try alternatives such as salads; peanut butter and jelly sandwiches; or chicken, tuna, or egg salad sandwiches.
Here's a recipe to try:
| | |
| --- | --- |
| | |
Combine avocado, lime juice, black pepper and garlic. Spread evenly on one bread slice. Top with chicken, lettuce and tomato.
For more tips or recipes, check out the Excellus BCBS Pinterest page at pinterest.com/excellusbcbs.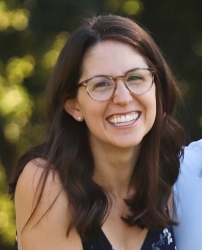 Latest posts by Erika Gruszewski
(see all)