The same day she received her nursing degree from SUNY Brockport, Kathy Gorall RN, BSN, was commissioned as a 2nd Lieutenant in the US Air Force, choosing the Air Force because it allowed her to experience all different areas of hospital nursing care.
After leaving the military, she put her Air Force experience to work in a hospital emergency room and cardiac catherization lab before joining the nursing team at Excellus BlueCross BlueShield. Kathy currently works as a medical specialty drug coordinator.
However, there was one Air Force experience she never expected to follow into her civilian career: preparing a mobile hospital.
On the Front Lines
In early March, Monroe County saw its first cases of the novel coronavirus, COVID-19, and local hospitals began implementing drive-thru test sites amid the outbreak.
"I work as a per diem nurse at an urgent care center to keep my patient skills sharp," Kathy said. The urgent care center is located on the grounds of a local hospital, and when the hospital decided to put up test and triage tents outside of the urgent care, she volunteered to help, taking on additional shifts.
"It felt like I was back in the Air Force. They created a mobile hospital in a day. It's what I would have needed to do in a war situation," she said. "Training prepares you to be able to quickly assess who needed to be tested and who didn't."
She said working in the fast-paced setting, performing exams in a car, in a tent, outfitted in face shields and protective gear, standing all day in the cold, was challenging but worthwhile.  "We're here to support the community. Patients don't know what to expect and they need someone to say, 'It's ok, you're going to be ok. Go home and take care.' They need reassurance."
Did she have any fears about the risk of working with a contagious disease? "I had a little fear in the beginning, but once I got there, I felt protected. We wear protective gear, we're cautious, constantly changing gloves, washing our hands. I feel good. It's the right thing to do to be out there and seeing patients."
We are All In this Together
Back at her day job with Excellus BlueCross BlueShield, Kathy supports members and providers from her home office. As a nurse coordinator for the medical specialty drug unit, Kathy works with doctors' offices on drug reviews for patients with complex diseases. During this unprecedented time, Kathy and her team are working to make the drug review process as flexible and convenient as possible.
"For example," said Kathy, "during this time of social distancing, our team offers guidance and assistance to providers who have patients who would benefit from receiving their medication infusion at home instead of in their doctors' offices or hospitals."
"I've also found that offices need to talk about the craziness of life. And, of course, I listen. It's a scary time for everyone. I just try to be supportive and understand. We are all in this together."
Service Before Self
Kathy believes her training and experience with the military and as a nurse are benefits during this time. "I am very thankful for that knowledge and mostly that I am able to help out where needed. This is a time where we all need to pull together for our world, and we're gonna get through this," she said. "That's why we're here, why we do this – to help people. I am proud to be part of that process."
Kathy's dedication to others demonstrates her commitment to another of her military experiences: the Air Force core value of "Service before Self."
How have you or others helped the community as we adjust to our new normal? Share your stories in the comments below.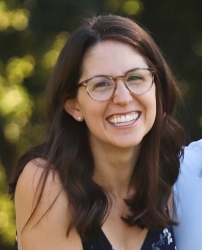 Latest posts by Erika Gruszewski
(see all)