Congrats to the big winner of our Munch Madness "Chompionship."
The Winter Squash Bake recipe "squashed" the competition to earn the coveted crown.  The chef behind the winning dish was Lauren "All Day" Daley, a chef with a knack for super simple comfort food.
The Winning Recipe in Action
Here is my (video) attempt at making the dish. I skipped the red pepper flakes (a no-no with our kiddos) and may have accidentally used regular ground sausage instead of poultry sausage. (Don't ask – It's been a long week.) Enjoy!
Check out her recipe: Winter Squash Bake 
Interested in tasting the other recipes in our Final Fork Chompionship? Read: Munch Madness.
Or, click on the following recipes:
Southwestern Two-Bean Chicken Soup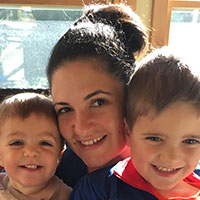 Joy lives in Ontario County with her boys (two sons and her hubby). She runs to stay sane and spends lots of time with her boys splashing in their creek and catching frogs and snails. She is a New England native who promises not to share her sports allegiances, although as an alumna of Syracuse University, she loves (loves) SU sports! Joy is a corporate communications manager at Excellus BlueCross BlueShield.