Prepare this Crock-Pot meal ahead of time. Freeze the food in gallon Ziploc bags for future chow-downs. -Ted Byrnes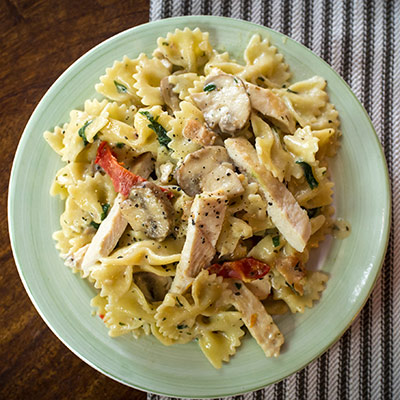 | | |
| --- | --- |
| | |
Place the diced chicken and the sauce into a bag and place in the freezer.

When you're ready to use the Crock-Pot, take the bag out of the freezer and cook the contents in the Crock-Pot on low for 5 hours.

When you're ready to eat, cook the bowtie pasta.

Drain and ladle the chicken and sauce, mix with the pasta, and add the parmesan cheese.

Ted was born and raised in Central New York and likes things that make him laugh, learn and appreciate. Those criteria first led to his once-thought-improbable marriage and are now fulfilled to overflowing with the addition of his two young children. Other earthly pursuits that contribute to those ends include music, camping, books and magazines, technology, comedy, playing lacrosse and watching professional ice hockey. Ted loves his aloof and standoffish cat. His dog loves her aloof and standoffish owner. Ted is the regional communications and community relations manager for Excellus BlueCross BlueShield in Utica.

Latest posts by Edward Byrnes (see all)