Grateful to work for a company that gives employees one paid volunteer day per year, I was straining to find a virtual opportunity that was meaningful to me before the year ended and the generosity was lost.
I had almost given up hope when I stumbled on a topic that I value – history! The Smithsonian Transcription Center depends on volunteers to make their collections more accessible. Transcription turns handwritten, typed, and audio recorded materials into searchable and readable resources.
If you like history, treasure hunting, or learning something new, working with The Smithsonian Transcription Center may be a fun virtual volunteer opportunity for you too!
The Day Begins
Most of the historical documents are written in cursive and are faded, which makes reading them difficult. Transcribing them makes them discoverable online and readable for anyone, including individuals who depend on technology for text-to-speech conversion.
So, on Friday, December 11, I created an account with the Smithsonian to begin my volunteer work. I spent the first hour reading all the training materials and transcription requirements. There is no expectation to completely transcribe an entire document alone; volunteers can transcribe a new document or continue the work another volunteer has started. Once the document is finished, it's submitted for review before it's published.
A Chance To Leave My Mark on History
I got to work reading about the various projects I could select from, and then chose to begin with the Freedmen's Bureau. As the Civil War was ending, President Abraham Lincoln and members of Congress wanted to help formerly enslaved individuals make the transition to freedom and citizenship. As a result, in March of 1865, The Freedmen Bureau was formed. Transcribing these records is important to me because it makes them accessible for anyone researching their family history and expands our knowledge of the experience of Black Americans during the post-Civil War era.
The time passed quickly, and it was nighttime before I knew it. I checked my activity history to see how much I'd done. In seven hours, I had supported three projects by transcribing ten pages.
Transcribing rows and columns of the was the most tedious task, but deciphering the 19th century handwritten letters took a lot of patience and problem solving. Even though President Andrew Johnson had the nicest penmanship of all the documents I worked with, I couldn't quite distinguish between his capital "I" and "J." Thankfully it's a collaborative process and another volunteer helped to decode the text.
Discovery of a Local Hidden Treasure
One of the most exciting discoveries recently completed by The Smithsonian Transcription Center was an antislavery newspaper, The North Star, published in Rochester, N.Y. by Frederick Douglass. Included in the 1848 issue is a letter from Douglass to his former enslaver titled, "To My Old Master," in which he explains his intentions as a runaway, recounts his life in freedom, and signs off "I am your fellow man but not your slave."
Success For the Project … and My Soul
While the main goal of this volunteer opportunity is to transcribe a document, half the fun comes from learning and the excitement of overcoming small challenges as I develop my skills. Aside from being the first person to read forgotten documents and getting that feeling of finding hidden treasure, making my discoveries accessible to others is even more rewarding.
My new virtual volunteer experience has become a hobby and I hope one day I too will contribute to a famous discovery.
To see more discoveries by The Smithsonian Transcription Center, follow them on Twitter @TranscribeSI.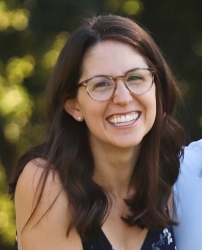 Latest posts by Erika Gruszewski
(see all)