Since Saturday, March 21, 2020 – and every weekend thereafter – Rick Nangreave, of Monroe County, has been painting. He's painted his finished basement (his office), the mudroom, kitchen, downstairs hallway, upstairs hallway, staircase, laundry room, living room, and dining room.  All that is left is his wife's office and two bedrooms.
This slideshow requires JavaScript.
But why this sudden urge to push up his sleeves, get the rollers, brushes and drop clothes out, and, well, paint?
"For me, I find it very relaxing, rewarding, and therapeutic… it's something I truly enjoy doing," he says.
Rick, who didn't want to sit idle, wanted to keep his mind active, and needed a distraction. By painting in his off hours, Rick is doing what so many have discovered is a healthy way to pass the time while practicing social distancing.
"Hobbies, an activity done regularly in one's leisure time for pleasure, are for everyone, not just those who live relaxed and leisurely lives," says Amanda Shanahan, RD, Employee Wellbeing Manager, Excellus BlueCross BlueShield. "In fact, those that live stressful, busy lives may benefit even more from hobbies than those living quieter lives."
Why?
Good health is more than the physical. The social, spiritual, emotional, and intellectual parts of your life also play a factor in maintaining good health, Amanda says. Hobbies can help you develop these areas of your life. They allow for you to be creative. A hobby can provide a time to take your mind off your stressors and engross yourself in an activity that offers pure enjoyment.
And that is exactly the case for Rick, who explains "when I paint, I typically have my headset on, and I get into the zone. I often wonder if it's like a runner's high?"
How do you choose a hobby?
For Rick, painting was an obvious choice because it was something he learned from his father.
"My dad was a shipfitter in the Navy during World War II and after serving our country, he became a carpenter and had skills and talent to basically do anything when it came to home improvement.  He was that all around handyman. He could build, remodel, electrical, plumbing, and yes, paint," he says.
A New Sense of Balance
On the other hand, a hobby can be a reason to try something new. That's how Emily Field has approached her new hobby: the unicycle. Sharon Field, Excellus BlueCross BlueShield Wellness Specialist and Emily's mom, said the hobby is a new one that Emily had no experience or real knowledge of, but was simply interested in learning.
"Emily is a competitive gymnast who was looking to stay active with balance, and this is one of the ways she chose to do it," Sharon says. So, Emily gave a new hobby a try. And try she did. Watch Emily practicing the unicycle in the video below.
Ready. Set. Pick a hobby!
If you're not sure about your passion, here's how you can get started:
Think about your childhood. Is there something you liked to do in the past that you want to revisit?
Look around your house. Maybe there are hobbies you started but had to put aside for a while. Do you have a musical instrument or crochet needles that have gotten tucked away? Is there a piece of furniture you've been looking at for years thinking "I really want to have that refinished"?
Know yourself. If you don't like to sit or have patience, quilting might not be for you.
What's next?
Make and find time. You may not have hours in your day to spare, but you may have more than you think. Could the time you spend at night watching TV or surfing the net be time to spend on a hobby?
Start small. Don't feel that you must start by spending oodles of time or money when you start.
Join a club or group online. This is a way to meet people with a similar interest. You may also gain some great tips on furthering your interest.
It may take some time and several tries before you find your true passion.  Talk to friends and co-workers or do a few web searches.  The possibilities are endless.
As for Rick and Emily's advice, both suggested that you find your passion and immerse yourself into it – and just have fun!
Share Your Hobby!
Do you have a new hobby? Share your hobby in the comments section below.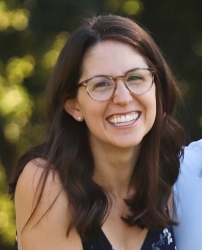 Latest posts by Erika Gruszewski
(see all)