Mothers seem to have an internal clock that ticks down the days and hours until we have to drop off our kids at college. I knew the day was coming.  It would be the first time my son and I would be apart for any length of time, save for a week or two of summer camp along the way.
I'd had 18 years to prepare, but suddenly, the day was here and now. It was not only a big step for my son, but also for me. My husband, Andy's dad, was an old hand, having sent three older kids off to college. I had been there for their leavings, but this was different. I had waited a long time to be a mother. What would I be without my child in my life 24/7?
Empty nest. Funny how things turn 180 degrees. I remember having a sudden surge of energy to clean during my last trimester of pregnancy. "They" call it nesting. Now, many years since I'd prepared for the arrival of my duckling, I was about to face life without his daily presence.
As I see it, there are several parts to the empty nest, and others' experience might look a little different. Here's what I learned along the way:
You'll be OK
Trust that you and your kid will be OK. You've had almost two decades to instill your values and life lessons before he or she goes off to school and is on their own—more or less—for four or more years.
As I busied myself helping Andy set up his dorm room at the University at Buffalo, I kept the conversation light, recalling the excitement of my own first days at the University of Oklahoma. It was a big deal for my parents—I was the first in our family to attend college. The transition was made a bit easier because my best friend from high school and I would be roommates. Besides, if I got homesick, my family was only two hours away. I was comforted that Andy's roommate was a former Amateur Athletic Union basketball teammate and that PJ, one of his best friends from high school, also was attending UB.
When there was no more motherly fussing to be done, I produced a photo cube of family pictures, including our dog, Hershey. Just in case Andy got homesick or forgot what we looked like. He was rather matter-of-fact about the whole college thing. I knew UB wasn't his first choice, but financially it made more sense than going to a private school. I hoped that once he started classes, made new friends and got into extracurricular activities that where he earned his degree wouldn't matter so much. (Now that he's graduated, he's glad his college loans are manageable. Note: I recently read that where you get your degree is not as good a predictor of landing a job as an internship in your field.)
I wanted to have a special "last supper" with Andy, but we were stuck with a mediocre pancake place since we were unfamiliar with the area.  I had a hard time holding back the tears as we ate.
Back at the dorm, there were no more excuses for me to linger. It was time to head home and Andy to begin the next chapter of his life.
I was surprised by Andy's depth of emotion as we hugged good-bye. No matter how much teens think they're ready to cut the apron strings, their first foray into independence can be as tentative as that first step as an infant.
As I drove the 2½ hours to Syracuse, my eyes leaked tears and my head pounded. As he should be, Andy was all eyes forward—the excitement of meeting people from other places and other cultures, developing exciting new interests, making connections, experiencing challenges, fostering a future career and maybe acquiring a steady girlfriend. My husband and I would be returning to our "roots" as a couple (plus the dog). Our life would be different, quieter, less chaotic. No juggling of dinner times to fit sports calendars, no loud music of a genre I didn't care for, no arguments about things that drive either parents or their kids crazy. We all settled into the new normal.
Your role as a caregiver will change
Many marrieds find the absence of children a chance to rekindle their relationship, and relating as two rather than three or more (and not counting the dog) may take time. Some couples embrace their new found freedom when their last child leaves home; others need time to adjust to the new normal. At home in our small village in Central New York, I experienced Andy's absence deeply—more than I imagined he felt mine. Conscious of his unoccupied bedroom and his empty chair at the table, I missed our frequent hugs, spirited conversations and preparing meals together.
We stayed in touch via phone calls and emails. I sent him occasional "thinking of you" cards and goodie packages. He was home for the holidays, an occasional weekend and summer breaks.
My nest is still empty, but thanks to Facetime and texting, we're only seconds away from being in touch or a 5½ hour trip by car for together time. It's a far cry from the weekly call I had with my parents in Oklahoma after I got married and moved to Syracuse.  Back then, long-distance charges kept conversations short and visiting each other once or twice a year meant long plane rides.
Practice Gratitude
Another part of my empty nest was gratitude; I appreciated that I'd raised an independent, soon-to-be productive member of society. Andy graduated from high school, made friends for life and matured beyond his years due in large part to dealing with his father's failing health. He values family and couldn't be closer with his brothers, sister, their families, his dad and me.
Now, he lives in Baltimore on Federal Hill where young professionals hang out. He put his degree in economics and English to work at an energy company. He likes his job and has a strong work ethic that's getting him noticed and promoted.
He's no longer the finicky eater who lived on peanut butter and jelly sandwiches, but has cultivated a palate for sushi, squid and Indian cuisine. Thanks to his college nutrition course, he can cite the platitudes of this or that particular food and has become a connoisseur of coconut oil. He's at home in the kitchen, and secretly thinks he may be a better cook than I am. Go ahead, make my meal!
Wonder of wonders, he keeps a neat and organized apartment, a far cry from his teenage bedroom with its "carpet" of clean and dirty clothes. (I learned to shut the door and keep my mouth closed about the state of his room. My parenting tip? I boycotted washing and drying the clothes he couldn't be bothered to sort, forcing him to learn to do his own laundry at an early age.)
The practical and philosophical lessons my husband and I had imparted have paid off. And, if you're lucky, your child will become your favorite adult friend.
5 Reasons to Embrace Life as an Empty Nester
If you're about to or have already dropped off your son or daughter at college, here are a few things to look forward to:
No more high school drama. No dealing with difficult teachers or a child's disappointment when he or she doesn't make the team or the lead in the school play or doesn't get asked to the prom. Soon, they'll realize that high school is "so high school."
No car on campus? Fewer worries about your young adult behind the wheel.
Better sleep. No tossing and turning until you hear the sound of sneakers on the stairs or the refrigerator doors opening and closing as someone rummages for a late night/early morning snack.
Out of sight, out of mind. While college is when many kids test their wings, as long as they don't get seriously hurt or ill or in any kind of legal trouble, what you don't know won't hurt you. Later on, they may regale you with the details of their escapades that frankly, you wish they didn't. Ignorance is bliss.
Room in the refrigerator for stuff you like. Unfortunately, a smaller grocery bill does not come close to offsetting college room and board costs.
Did I mention more time for you? Hours sitting in the cold and rain at football games, attending back to school nights and visiting college campuses is now "me" time. (Note: You'll get another big chunk of time back when you don't have to fill out the college financial aid forms each year. What a relief!)
Do any of these scenarios sound familiar?
Books about to topple off your nightstand? Tackle the top of the pile before the next bestseller comes out.
That furniture you've been meaning to refinish? Grab the sandpaper and go.
Take a weekend away on the spur of the moment? No need to worry that your teen will become a home wrecker in your absence.
Put off that redecorating project for years? Head over to the hardware store and dream in color paint chips. (Don't start with your college kid's bedroom just yet; familiarity breeds content when they come home for that first visit.)
Too much time on your hands? Take up a new hobby or rekindle one you've put aside.
"Let Go."
Although you may breathe a sigh of relief once you've deposited your son or daughter safely at school, take a few moments to reflect and pat yourself on the back for a job well done.
In hindsight, what advice would I give my younger self when giving my baby bird his wings?
Let go. It's the lesson the universe seems determined to teach me again and again. You can't control most things and certainly no one but yourself. Professor Experience will be one of your child's best teachers. Consequences speak louder than your words. Most likely your child will emerge on the other side of higher education not only with a diploma in his/her hand, but with the insight that their parents may be smarter than they once believed.
Despite my intent to worry less, like most mothers, I'll always have a constant prayer in my heart for my child's health and safety. I've learned to respect his choices as an adult and bite my tongue when I realize some things are "none of my business."
As someone once told me, we never get credit for what we don't say.
Besides, there's nothing like the satisfaction of knowing that if and when our children have their own kids, they'll understand why their leaving home is a sweet, yet sorrowful event.
If you still need some extra help, articles like this helped me re-imagine life after the nest empties.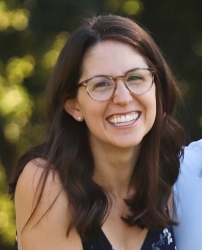 Latest posts by Erika Gruszewski
(see all)