I've never been as sick as I was my first year at college. I was barely sleeping and living off ramen noodles and coffee. No wonder I caught mono!
Unfortunately, my mono went without diagnosis for eight months! The cure for mono is rest and more rest. But when I did suffer a cold or aches and pains, a simple gift of a first aid kit from my parents "saved" me on more than one sickly occasion!
That's why a first aid kit is on my back-to-school health care checklist.
You can create your own first aid kit by including some typical injury materials, including bandages, gauze and tape and antibiotic ointment for cuts and scrapes. You might need ibuprofen for aches and pains and antihistamines for allergic reactions. Eye drops help get the red out. Add a thermometer, just in case!
But a first aid kit is just one of the items you might want to tackle before the start of school:
#1 On Your Checklist Is . . .
Although it's the last thing on our minds when we're healthy, getting your yearly checkup should be at the top of your checklist.
Many college students should also get certain vaccinations, including those for meningitis, cervical cancer and whooping cough. Flu shots are also strongly recommended, but many college campuses offer free vaccinations for them in the fall.
Ask your doctor about the best ways to care for yourself, especially if you're away from home. Also consider getting your annual dental checkup and needed vision and hearing screenings out of the way before school starts.
#2 Your Doctor's Digits
While you're at it, ask your doctor about the best way to reach him or her while you're at school. Your pediatrician knows you best, and you trust him or her. Ask if they do visits over the phone or by video chat for those times when you can't get to their office.
#3 Unlock These Health Benefits
Maybe not as exciting as meeting your new roommate or choosing your first classes, but you may save yourself a hassle later on by  registering now for an online account on your health insurer's website. You may "unlock" a bunch of important benefits, including instant access to your member card and a new kind of service that lets you video chat with a doc ! (See below for details.)
Register now while you're healthy. You don't want to be searching for this stuff while you're battling high temperatures, a scratchy throat and the shivers.
#4 Get "The Card"
You'll need your health insurance member card, whether it's a digital version on your phone or a physical card. You'll need your card wherever you seek care.
#5 FaceTime A Doc
Adulting is hard! Mom and dad might not be there to take you to your doctor when you're sick. If you can't contact your doctor or your college's health center is closed, telemedicine might be your best bet. It feels a lot like FaceTiming or Skyping. You can talk or video chat with a doctor from your dorm room, apartment or between classes for non-emergency medical conditions.
If you have Excellus BlueCross BlueShield health insurance, you may have access to a telemedicine benefit through MDLIVE. Using an app on your smartphone, computer or tablet, you can get help from a doctor within minutes. If needed, the doctor can fax in a prescription to a nearby pharmacy.
Consider registering today for telemedicine so you're ready to use the app when you're sick: ExcellusBCBS.com/HealthCareLive
That's all I have for tips! I hope you're better equipped to handle whatever malady comes your way this school year.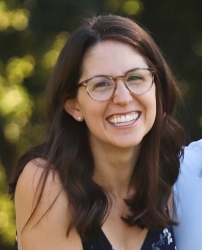 Latest posts by Erika Gruszewski
(see all)