If you're like me, you give your health care almost no thought until you're sick or you need to fill a prescription. You show your insurance card and it all kind of just happens because you're on your parents' health insurance plan.
But then your 26th birthday comes along and *bam* you'll be dumped and forced to figure this health insurance thing out. #adulting
After my boyfriend turned 26, he went without health insurance for five months because his employer didn't offer it. When we attempted to get him covered, we realized we were in way over our heads (that was 2014).
Fast forward a couple years and it's ironic that my job is to explain health insurance in an easy-to-understand way. I'll let you in on what you need to know and how to go about choosing a plan—we'll call it a crash course in health insurance.
First, let's understand the basics.
 If you can't get health insurance through your employer, you can buy a plan through the exchange (in New York, the NY State of Health Marketplace) or directly from an insurer.
The benefit to signing up on the exchange is that you can get help paying for your plan. In 2017, if you make less than $47,520 (400% of the current Federal Poverty Level, or FPL), you'll likely qualify for some sort of financial help, so it might be worth exploring your options on the exchange.
When you turn 26, you're usually covered on your parents' plan until the end of your birth month. But that doesn't mean you should wait until the last day to start researching your options.
Losing your parents' coverage is a "qualifying event" and makes you eligible for a Special Enrollment Period. It's a set window of time to enroll in a plan, usually 60 days, and once enrolled, you're locked into that plan until December 31st of the year you enroll.
"These deadlines are why you want to give yourself at least a month to research," said Shelley Bollar, Supervisor for Marketplace Facilitated Enrollment at Excellus BlueCross BlueShield. "You want to make sure you're ready prior to losing your insurance so you don't have a gap without it. You never know when you'll have health issues."
Next up, learn how it works.
 No matter what plan you go with, most preventive care is free. These are things like your flu shot, annual physical, STD testing, depression screenings, and generic birth control.
There are a lot of plans to choose from. You'll have to figure out how you'll want to pay for it. The lower the plan's monthly (premium) cost, the more you pay when you get care. The higher your monthly cost, the less you pay when you get care.
Here's that this looks like:
This is where you start to think about how healthy you are.
People who are generally healthy and don't see the doctor often tend to go with high deductible health plans, or the base, bronze and silver plans. That's because these cost the least per month, and the user can pay as they go for services they use.
On the other hand, some people choose gold or platinum plans just because they're more comfortable with traditional co-pays when they get health care, not necessarily because they're visiting the doctor more often.
If your plan has a deductible, that's the amount you pay upfront when you get care. This handy dandy chart put it into perspective for me:
Why is health insurance worth it? You'll be protected financially if something catastrophic happens to you. If you fall off your bike and break your leg, for example, it could cost you $8,000 if you don't have insurance! Each plan has an out of pocket maximum, which is the most you can pay in one year.
But your membership with a health insurer also gets you a discounted rate when you use health care services.
"Narrow your choices if you know there's a particular health insurance company you want to go with, a certain price you want to pay, or a specific doctor you want to see," says Shelley.
Start browsing plans at nystateofhealth.ny.gov to get an idea of what's out there. If you see a few plans you like you can select them and compare side-by-side. Get a more narrow focus by bouncing over to the health insurer's site. The research is on you.
Some other things to think about are
Take all the plan costs into consideration, not just your monthly premium. These are things like deductibles, costs for drugs, trips to the doctor, etc. Remember the deductible is what you pay first, upfront. Verify that the health care providers you see are in-network and "participate" with your plan.
Catastrophic plans are available to those under 30. You can't get a tax credit with the base/catastrophic plan, but you get three free visits to your primary care doctor.
If you take prescription medications, the Silver Standard plan gives you copays on drugs from day one (so you don't have to meet your deductible first). Make sure your meds are covered on the drug list (called a "formulary").
Check to see if your gym membership can be reimbursed or if there are other health and wellness discounts. For example, Excellus BlueCross BlueShield plans gives you up to $400 back with the ExerciseRewards program.
You can only Google and read so much—I totally get it. The good news is there are experts who do this every day and can help you.
You can call a licensed agent at Excellus BCBS at 1-888-370-7098. They can estimate your financial help, explain all the insurance stuff, and help you choose a plan. You can also meet in-person with someone like Shelley, a facilitated enroller, or an independent broker. To schedule an appointment with an Excellus BCBS facilitated enroller, call 1-800-234-4781 or find someone available in your area.
And of course, you can review your decision with your parents. Once you've got health insurance under your belt, you can get back to doing all other things adulty.
Do you have other questions about buying health insurance? Leave your comments below.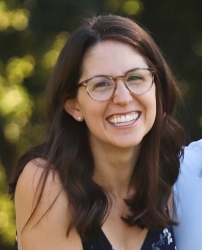 Latest posts by Erika Gruszewski
(see all)