Lisa's world was turned upside down a few months ago. As with many of us, the pandemic changed nearly everything about her daily life overnight. The mother of three had only been back to work at Excellus BlueCross BlueShield for about four months following maternity leave, when her job shifted to work from home and her two older kids' school transitioned to online. "I know it's a cliché that the only thing constant in life is change, but so much change, so quickly, has really affected my mental health," said the mother of eleven-month-old Alessandra, six-year-old Elias, and 10-year-old Sophia.
Lisa's work is rewarding, but stressful at times. Add working from home to the mix, a breastfeeding baby who wants to be held, and the two older siblings attending school via Zoom, and you've got a perfect storm.
Be Patient and Kind
Growing up, Lisa was aware of the prevalence of mental health issues in her family. Five years ago, she also began experiencing nervousness and anxiety, which led her to seek help from a behavioral health professional who taught her coping skills and prescribed medication to help alleviate her symptoms.
"Taking medicine, doing deep breathing exercises, and scheduling regular physical activity such as walks with my family have helped me adapt to my new normal," said Lisa. "I've also learned to be patient and kind with myself, and others, when I'm feeling stressed or panicked."
Family Date Night
Lisa found that doing things with the family that were fun, and that gave them something to look forward to each week, improved the entire family's mental health. "We now have a themed family date night every Saturday," said Lisa. "One week it was a sports team theme, while another was a fancy dress up dinner." Daughter Sophia has started to help in the kitchen and, according to mom, "makes a mean risotto!"
Lisa is quick to add that support and check ins from her leaders at work have helped her to strike a work-life balance that allows her to manage stress and maintain perspective. Her supervisor has been very supportive, and sends weekly emails to their team that are funny or helpful, and keep everyone feeling connected.
"I've learned that your emotional well-being is just as important as your physical well-being," said Lisa. "Taking care of your mental health is no different than going to the doctor when you are sick, so don't be afraid to ask for help or lean on others when you need to." A conversation with your doctor can be a good place to start with getting help.
Tips for Managing Anxiety
 The New York State Office of Mental Health provides the following tips for managing anxiety in an anxiety-provoking situation:
Practice good self-care, including exercising, eating healthy foods, and sleeping an adequate amount at night. If possible, spend some time outside. Avoid staying up late to
monitor the news.
Virtually reach out to different types of support networks, such as family, friends, colleagues, faith-based communities, and social organizations to strengthen your overall
feeling of connection. Isolation and loneliness feed anxiety.
Find or create spaces that are not focused on COVID-19. Start a social media thread about other topics, ask friends to discuss other topics, or watch your favorite TV show or movie.
Savor small positive moments, amplify positive stories, and stay optimistic. Try to cultivate a mental wellness practice, such as writing in a gratitude journal, or talking
nightly with your family about moments during the day that were fun or enjoyable.
Take an opportunity to practice mindfulness when managing anxiety. Mindfulness tools such as grounding exercises, sensory modulation, and deep breathing may be helpful.
If you are experiencing any urgent mental health concerns, there are resources such as Lifeline 585-275-5151 and the Suicide Hotline 1-800-273-8255.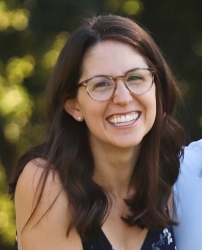 Latest posts by Erika Gruszewski
(see all)