"Nothing compares to the simple pleasure of a bike ride." – John F. Kennedy
A few months back, the snow started to melt and we headed out to the Erie Canal for our family walk/bike ride. My son, Matthew, asked if I wanted to ride his bike for a few miles so he could rest.
I laughed at the idea.
A bike? Me?
At age 42, I hadn't been on a bike since I was 16 – no, that isn't true. I was on a bike while at the boardwalk in Ocean City, Maryland a few years ago, but it was one of those beach bikes that holds four people and has a basket in front. Does that even count?
Anyway, I agreed. I got on the bike and wobbled a little at first. But then after about a mile, I realized… I love this feeling!
And this is how my biking obsession began. I worked out the details to purchase nice bikes for my husband and me that we could use on the roads and trails near our home in Chittenango, and within days we had our very own Trek bikes.
This slideshow requires JavaScript.
Bike riding: I'm not alone
What I have learned since that day in March is that I'm one of many people who have this love for the freeing, stress relieving qualities of riding a bike.
As I take to the roads and trails every day with my husband and children, we pass dozens of biking enthusiasts. Some are sporting fancy gear and riding the cream-of-the-crop bikes, others are simply wearing their protective helmet and peddling a not-so-fancy bike like mine.
Take my friend and coworker Erika Gruszewski, from Monroe County, for instance. Since the pandemic started, she, her husband and their daughter have gone bike riding together as a family, which is a fun way to explore their neighborhood and get some activity at the end of the day.
"We also have a push-along trike for my toddler – she can't reach the pedals yet, but she loves ringing her bell and wearing her helmet," Erika said. "Pushing her around the neighborhood in the trike or the stroller is an almost daily activity for us. Getting out and moving in the fresh air always improves my mood!"
This slideshow requires JavaScript.
As many people, especially families like Erika's with young children at home, are looking for lockdown-compliant ways to get outside and keep everyone as healthy and happy as possible, we're all enjoying this physical activity, outside in the fresh air.
In fact, research shows that a growing wave of New Yorkers are embracing cycling and that it's a booming method of exercise and transportation in larger cities. According to PeopleForBikes Foundation, "affordable recreational bikes and practical models for commuting and errands are in high demand right now." During May and June of 2020, bike sales throughout the nation were up substantially from last year — 65 percent greater than year-to-date 2019.
A Bicycle Built for Sunday Funday
Lilac Inthavong-McEvoy, who resides in Monroe County, said it's easy to understand why the popularity of cycling has grown.
"It's a fun, easy way to get outside, spend time with others, and get exercise," she explained. Lilac spends her Sundays traveling bike trails and roads throughout Rochester with her coworkers at Excellus BlueCross BlueShield on what she calls "Sunday Funday."
This slideshow requires JavaScript.
"On any given Sunday, we could have as many as 16 people – coworkers, their spouses, their kids – who meet and ride," she said. "It's a way to be together and spend quality time in a safe, socially distanced way."
Connect, Reflect, and Recharge
Co-worker and friend, Melissa Gardner, who also resides in Monroe County, has benefited from Lilac's cycling Sundays.
"In most aspects of my life I am an introverted person who is very self-motivated to accomplish any goal I set," Melissa said. "That isn't true for fitness, though. Any time I missed a goal or broke a fitness streak, I would borderline give up and allow too much time to pass before picking back up healthy habits."
For someone like Melissa, who wasn't a fan of group fitness classes or anything that felt competitive, cycling has given her the outlet she needed to connect with others, reflect and recharge.
On the weekly rides, Melissa says she enjoys the fact that she "can meet-up with riders for great energy and be completely by myself – all while burning calories and exploring our community."
Benefits of getting on a bike and peddling
Not only do biking and other forms of outdoor activity allow families to get exercise, they also provide valuable peace of mind during stressful times, said Nicholas Massa, MD, medical director at Excellus BlueCross BlueShield.
"Being able to go outside and spend quality time with the family, while getting the physical activity that we all need makes getting on a bike an easy solution to maintaining your health."
According to Massa, we should follow these physical activity guidelines for Americans.
"Adults need at least 150 to 300 minutes of moderate physical activity each week," he explained. "Adults also need to engage in strength-based activities (lifting weights, push-ups) at least 2 days each week. Following these guidelines can improve overall health and decrease the risk of chronic diseases such as heart disease, cancer or diabetes.
There are also physical activity guidelines for children age 17 and under:
Children ages six to 17 need at least one hour of moderate-to-vigorous activity every day. They should also include both aerobic activity (biking, walking, running) and strength-based activities (climbing on the playground, jumping rope).
Preschool-aged children should be active for at least 3 hours per day to support growth and development.
Tips and Tricks for a Safe Bike Ride:
Wear a helmet.
Be seen. Dress like a fluorescent peacock—wear bright colors and reflective clothing, especially in the early morning, late at night, or on cloudy days.
Protect yourself from the sun. Wear sunscreen, especially on the back of your neck, and sunglasses
Know the weather forecast. Wear waterproof gear as needed.
Be alert. Never ride with headphones or an earpiece. You need to hear everything you possibly can.
Ride with a buddy. Two cyclists will be more visible than one. Plus, if something happens to you, your buddy may be able to facilitate the emergency response process (and vice versa).
Get creative with your route. Choose roads that are extremely wide or have dedicated bike lanes. Opt for quieter neighborhood roads over high-traffic ones.
Always carry a patch kit. Learning to patch up your own flat tire can prevent you from being stranded in an unsafe or remote location.
Carry a cell phone and ID. If you don't have a patch kit and need a ride, your cell phone will come in handy.
Bring drinking water for longer rides.
Ride with traffic, never against it.
Always be ready to yield. What you can do is go slowly enough that you could stop or give the right of way at a moment's notice.
Be vigilant at intersections. When coming to a stop, hang left in the lane so the drivers behind and in front of you can see you.
Be on the lookout for loose gravel, ice, sand, puddles, and other road hazards.

Take bike-specific trails, whenever possible; follow the rules of the road; use bike line if there is one.
Don't share water bottles.
Practice good cough etiquette by coughing and sneezing into your arm, not your hand.
Wash hands with soap and water after any possible contamination, before eating and after using the bathroom (or use alcohol-based hand sanitizer if soap and water are unavailable).
Consider bringing hand sanitizer or wipes to use after portable toilets.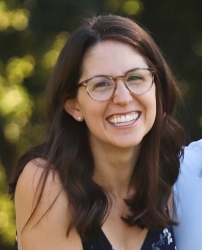 Latest posts by Erika Gruszewski
(see all)