The average American commute is getting longer. Between construction, accidents and traffic, it seems there is always something stopping you from getting to work on time.
The daily grind of his commute is what led Scott Pudney, a Software Engineer with Excellus BlueCross BlueShield to start biking to work. Pudney began by riding with a co-worker who lived nearby, which helped him get used to biking in traffic. He admits that biking to work has challenges, like showing up sweaty, storing his bike on site, and riding in the rain. Despite those challenges, Pudney says that having a bike that is capable, safe to ride and easily maintained made his new commute worth it.
This summer, you too can experience the benefits of biking to work.
it won't burn a hole in your pocket
Cars are expensive. Just this year, the cost of owning a car has gone up to over$9,000 a year. On the other hand, it costs 30 times less to keep bikes in shape. So, if American drivers were to make just one four-mile bike round trip a week, they would save almost 2 billion gallons of gas a  year.
burn fat not fuel
On average, bicycle commuters lose  13 pounds in their first year of cycling alone. With biking, you can get your workout in before work, without all the hassle of paying for and finding time to hit the gym. Plus, because it's low impact, biking is great for your bones and joints.
Stay Safe
Biking to work is only effective if you can stay safe on your bike. Pudney recommends finding the safest route, obeying traffic rules and making yourself seen.
Follow these tips to get the most out of your new commute. While many of them might seem simple, Pudney adds that "as a biker, you are much harder to see, therefore, you need to follow the rules and be twice as careful to make it to your destination."
Helmets.  You've heard this one since you were little; every bike ride should begin with putting on a helmet. But it's equally important that your helmet fits you right. Follow these steps to ensure your helmet can protect you on your ride.
Crash Prevention.  If you're riding a bike, you should follow the same rules as people driving a car. For a reminder on the traffic laws, check the National Highway Traffic Safety Administration. Pudney says that while you "might feel the urge to skip traffic by weaving in and out of cars…you should maintain a straight, predictable line so cars can see you from far away. Popping out of nowhere might not only scare drivers, but also increase your risk of an accident." You can also avoid a potential crash by staying alert of the traffic around you. If you can anticipate what others may do, it can help you prevent a crash.
Signal. Bicycles don't come with turn signals and brake lights. But fortunately, there's already a universal language for turns and stops on a bike.
Be Seen. An avid cyclist, Eileen Mazzo,  Financial Analyst at Excellus BlueCross BlueShield, suggests increasing your visibility, by adding a "flashing white front light, a flashing red rear light, and reflectors" to your bike.
How to Get Started
Ready to give biking to work a try? Here are some tips to get you started.
Tune Up. Before you head out, make sure you are riding a bike that works and fits you. Check the brakes, tires and gears to prevent problems down the road.
Plan Your Route. Depending on how you drive to work, you may need to find a new route that helps you avoid the highway on your bike. Choosing a route with less traffic and slower speeds can be a good option for new bikers. Your safest route may be one away from traffic altogether in a bike or on a bike path.
Be Kind. A little kindness on the road goes a long way. Mazzo says that, it's great to wave or even say thank you when cars are courteous. It makes them think of the cyclist in a more personal and respectable way.
Try a Bike Share. If you don't own a bike, a bike share program can help! Bike sharing is a rental system, whereby you can pick up, ride and drop off bicycles at numerous points across the cities – usually at automated stations close by. Rochester has an established bike share program called Pace, and Syracuse is starting to break into the bike share program with Gotcha.  For more information on bike sharing, check out 12 Things to Know Before Using a Bike Share.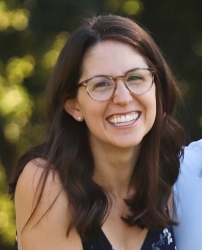 Latest posts by Erika Gruszewski
(see all)