Bike shares are popping up in cities like mine (Rochester, NY). They're great for quick trips to the neighborhood store, or for a group ride when with friends or out-of-town guests.
It sounds like fun, but if you're like me, you're not quite sure how to do it. Yes, I know how to ride a bike, but how do I rent one?
Don't worry. I have friends who've mastered this new service. Here are some tips:
Bring your own bike helmet. Not sure how to find one?
Carry a small backpack or messenger bag. You can clip your helmet to it and carry your sunscreen, water bottle, snack and wallet. Maybe even carry a spare pair of shoes? Many of the bikes also have baskets for those items you're carrying.
Put on sunscreen, and not just on your face. Make sure you protect your arms and legs, too!
Wear "sensible" shoes like a pair of sneakers or closed-toe shoes. Come on, you know your mom would tell you not to wear flip flops, right?
Know the route and the rules. Aim for routes that keep you off busy roads. Ride with traffic (riding against traffic is a leading cause of bike-car crashes), use hand signals when turning and use the bike lanes where they're available. You can read up on many of the rules here.
Get the app. Most bike shares are mobile-based. You simply download an app, preload your credit card, and you're off like Dorothy and Toto.
Look for bike share credits, if you're using an app. My co-worker, for example, found a promo code on the Rochester Regional Transit Service (RTS) website for $5 in bike share credits!
Know the bike share rules. Can you return the bike to a public rack, or should you return it to the bike share stations? How long can you rent the bike? The rules are usually detailed on the bike share app or website.
Adjust the bike seat for your height! A quick tip: Sit on your bike, and push one pedal all the way down. You should have a slight bend in your knee, if your seat is adjusted correctly.
Before you ride, squeeze the bike's handles to test the brakes. Check the tires to make sure they're not flat.
Start easy. Consider biking along a trail or in a park, and skip high traffic areas. In Rochester, for example, there are spots to rent a bike along the Genesee Riverway Trail, an off-road trail along the Genesee River.
Have fun!
When you're done, tell your friends and family. Lots of people (like me) are thinking about it, but are too nervous to try. So share your story – whether it's on Facebook, Twitter, Instagram or just at the dinner table.
Here are a few bike sharing services in upstate New York. Please note that many bike share services close for the season around late October or November.
Enjoy the ride!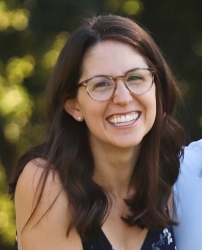 Latest posts by Erika Gruszewski
(see all)